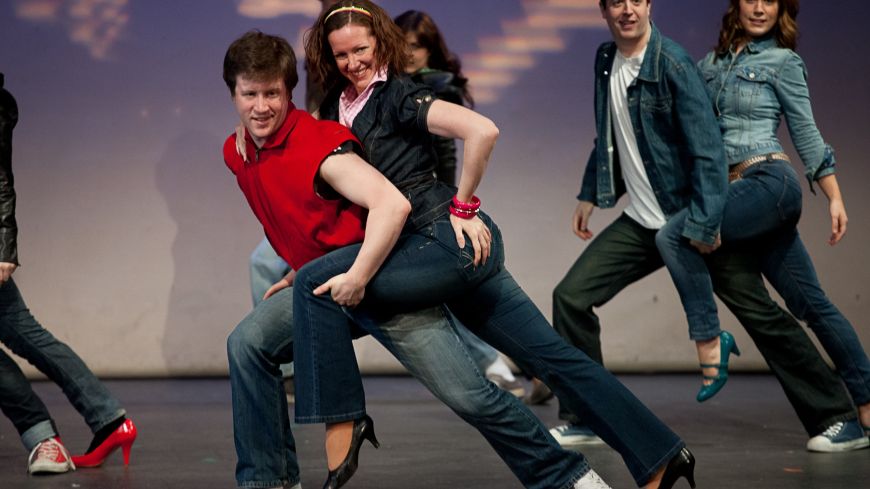 Company
Edinburgh Music Theatre Company
Production
Michael Richardson (director), Neil Metcalfe (Musical Director), Janice Bruce (Choreography)
Performers
Jon Kidd (Ren), Louise Black (Ariel), Kenneth Pinkerton (Rev. Moore), Julia More (Vi Moore), Kate Gadsby (Rusty), Lee Brown (Willard)
Footloose has a number of well known songs including the title song,  "Let's Hear It For The Boy" and "Holding Back For A Hero". In some ways, either with the type of songs or being first night, it seemed the cast were holding back until "hero" midway in the first half. After this number the show really took off with a much bigger performance from the cast as it worked its way through pathos, comedy and energetic dance numbers culminating in a great finish where "Footloose" is reprised.
This is a stage version of a film - a reverse order that is becoming more common.
It's set in small town America where dancing is banned. City boy Ren takes on the local tyrannical preacher by challenging the value system that has gripped the town's residents. The preacher blames attendance at a dance for his son's death.
With an all singing, all dancing cast of 34 performers, you can guess that the incomer wins through, not only with the townspeople, but in particular with the preacher's daughter.
There are strong performances all round from the principals. The second female lead, Rusty has probably the best part and Katie Gadsby makes the most of it.
Her romantic target Willard, played by  the tall and apparently ungainly Lee Brown plays the slow country lad to perfection, but his transformation to a  dancer was a highlight of the show.
Louise Black, as the rebellious daughter of the preacher, carries the lead role well when singing, dancing or acting. Jon Kidd as Ren from Chicago is also good but perhaps needs to project his character a little more to get the audience believing that he can be a catalyst for change. 
The Rev. Moore (Kenneth Pinkerton) and his wife (Julia More) are impressive with their second-half songs in particular. Musically, the cast and band are great with lots of good vocals.
Sometimes the sound level of the dialogue dropped a bit but that's maybe nit-picking. The other 2 main girl singers Wendy-Jo and Urleen were very good and quirky, but the cameo part of the diner owner on roller skates was a good bit of comic theatre.
The set overly relied on white picket fencing and while times are tough, the production would have benefited from a backcloth or slide to add interest.
Direction and choreography was imaginative and the show moved along at a pace that kept your interest to the end.
Show run: Eves to Saturday 27 Feb 2010, 7.30pm, and Saturday matinee, 2.30pm. Tickets £8-£12