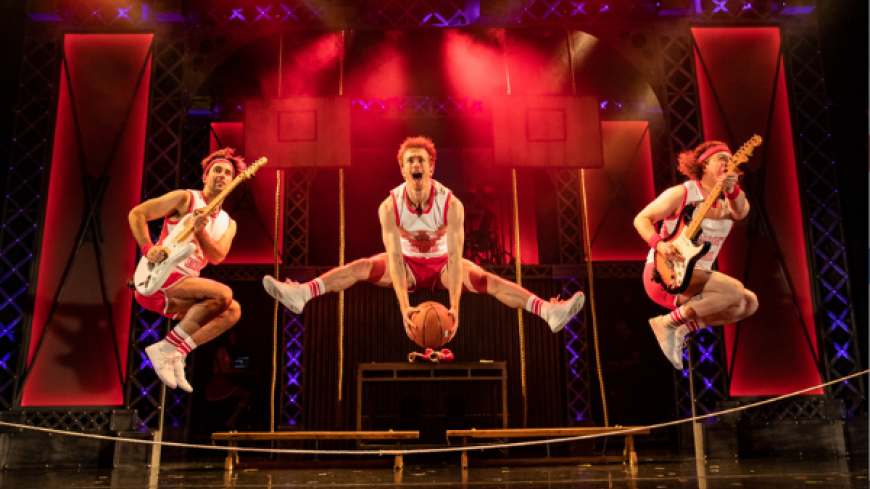 Production
Dean Pitchford (Lyrics & Adaptation), Walter Bobbie (Adaptation), Racky Plews (Director), Tom Snow (Music)
Performers
Darren Day, Jake Quickenden, Lucy Munden, Oonagh Coxy, Joshua Hawkins, Holly Ashton, Samantha Richards, Jess Barker
Tragedy claims the lives of four young teens in the county of Bomont U.S. and to heal the wounds of losing his son, the local Reverend and city council outlaw the promiscuous act of dancing, which had a hand in encouraging dangerous activities. It's a premise the 1984 film Footloose championed into success and the one its stage show adapts with a hefty infusion of jukebox classics alongside Tom Snow's original songs for the film.  
In this town which preaches gospel, but promotes judgement, newcomers Ren and mother Ethel find themselves stuck after his father walks out. With nowhere else to turn and the costs of being a single mother in Chicago too taxing, Ethel and Ren arrive at Bomont, and immediately Ren makes an impression. Not a good one. 
Though charming, sarcastically adorably, and enviable in their ability to 'cut loose', Joshua Hawkin's Ren has very little to work with script-wise. Turning in a bouncing performance, conveying a mishmash of emotional turmoil and levity, the script keeps Hawkins from stretching out and demonstrating evidently impressive acting and vocal chops. 
Offering redemption with its 'teen' cast, Footloose benefits from Lucy Munden's sultry and strong-mannered Ariel, Rev. Moore's daughter - a young woman determined to see the world. And as such, Munden and Hawkins achieve chemistry, one where the physicality is evident, but there's a sincerity which draws the pair together – a young man looking to move on, and a woman looking to escape. 
The remainder of the ensemble cast serves less to forward the narrative and more for comedic junctures and to deliver a string of musical numbers, the production's saving grace and selling point. Matt Cole's choreography captures the 80s dance style (though becomes repetitive), utilised as a storytelling mechanic for the likes of Jake Quickenden's Willard, the loveable teen with two left feet, and his romance with Oonagh Cox's Rusty. Meanwhile, Samantha Richards and Jess Barker fill out the rest of the show hopping between solid vocals, physical comedy, and live instrumentals. 
These live instrumentals performed by the onstage cast is proudly proclaimed at the start of the show, while it's always a remarkable addition, this production seems to drop a few notes in pursuing this gimmick. What the show continues to lack is impact, causing elements of the rock-combo soundtrack to feel hollow. But where the score slips, vocals are engaging, especially for the women on stage as they belt Holding Out For A Hero and Somebodies Eyes to the back of the venue with clarity and enthusiasm, with noteworthy moments courtesy of Holly Ashton's vocals while playing Vi, wife of the Reverend. 
Simpering, Darren Day's Rev. Shaw Moore is exuding the pleasantries one may recognise with a musical of this calibre. Vocally, Day holds firm, but the performance element is severely lacking, looking to play more with the crowd than offering an authentic sense of contradiction for a man pained with the loss of his son. It encapsulates the persistent issue that there's more tension in a Communion wafer than in Footloose's narrative.
But really, everyone attending the show is here for something distracting, amusing, and catchy – and that's precisely what Footloose offers up in a pair of tight denim shorts, light-hearted and floaty with its handling of delicate subjects of loss and abuse, nothing in Pitchford and Bobbie's adaptation is heavy-handed, banking more on flashes of flesh and cheerful reminiscence than any depth of storytelling.
19th - 23rd July, 7.30pm. Wednesday & Saturday matinee 2.30pm. Ages 8+
Tickets from £13.00
Footloose Tickets | Edinburgh Playhouse in Edinburgh | ATG Tickets
Photo Credit: SellADoor