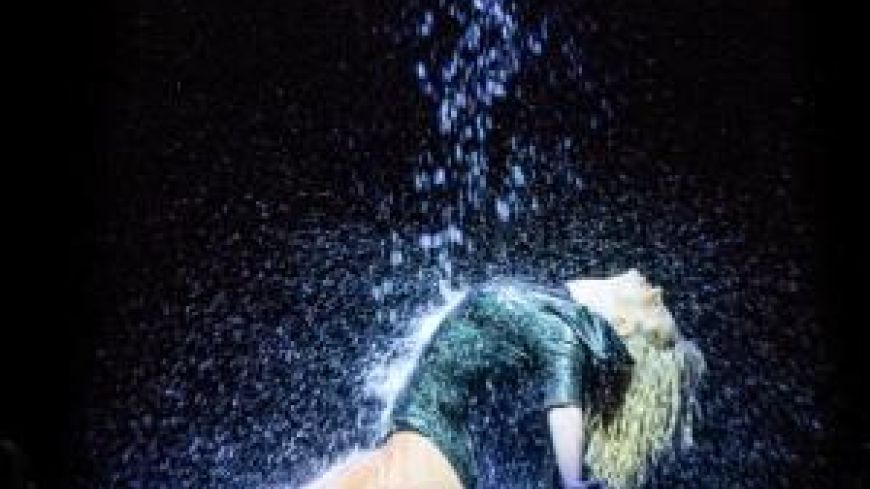 Company
Selladoor Productions & Runaway Entertainment with Jason Haigh-Ellery, Richard Darbourne Limited & Matthew Cundy Productions
Production
Hannah Chissick (director), Matt Cole (choreographer), Tom Hedley & Robert Cary (book), Robbie Roth (music), Robert Carey & Robbie Roth (lyrics), Takis (designer)
Performers
Verity Jones (Alex Owens), Colin Kiyani (Nick Hurley), Hollie-Ann Lowe (Gloria), Sia Dauda (Kiki), Demmileigh Foster (Tess), Alex Christian (Jimmy), Carol Ball (Hannah), Rikki Chamberlain (Harry), Matt Concannon (CC), Sasha Latoya (Louise), Rhodri Watkins (Andy).
Flashdance was the unexpected movie hit of the early 1980's. With a Grammy-winning soundtrack and at least one memorable dance routine, it's an obvious choice for a stage musical. Unfortunately, something vital has been lost in this translation from screen to stage.
The plot is both thin and cringingly predictable, with a boy-meets-girl, a break up and reconciliation angle, running beneath the working-class girl gets to realise her ambition main thrust. Alex, our girl hero, is a welder who wants to be a dancer but has to settle for shaking her tush on the dance-floor of a rundown exotic nightclub called Harry's. Her dream is to attend the prestigious Shipley Dance Academy and, as every fan of the film will tell you, the climax of this cliff-hanger is the dance Alex performs for her audition.
With a clunky set (that gets more complicated moves than the ensemble dancers, whose main job appears to be noisily shifting said cumbersome set about a lot while other people are singing), some awkward staging and a back-of-a-fag-packet script, there is not a lot to love. The costumes also deserve a mention as, although we all know the 80's was the decade that style forgot, some effort really has been made here to make all the performers look as unattractively naff as possible.
That said, there are a couple of really watchable song and dance numbers, with Demmileigh Foster as Tess and Sia Dauda as Kiki performing rousing renditions of I Love Rock 'n' Roll and Manhunt respectively. These two also perform at Harry's exotic nightclub with heroine Alex, played by Verity Jones, and, unfortunately for the plotline, both out-dance her every time. Famously, a bloke danced the tricky bits of Flashdance… What a Feeling in the movie, and so while Jones really gives her all to this climactic number, it was perhaps always destined to be a bit disappointing.
As seems to be de rigueur for musicals of a certain type these days, the performance ends with an upbeat medley of the show's greatest hits, cynically designed to see the audience leave on a high believing they've had lots of fun. With the front rows of the stalls on their feet by the time it's all over, this clearly worked for some.
Runs 15th – 20th January