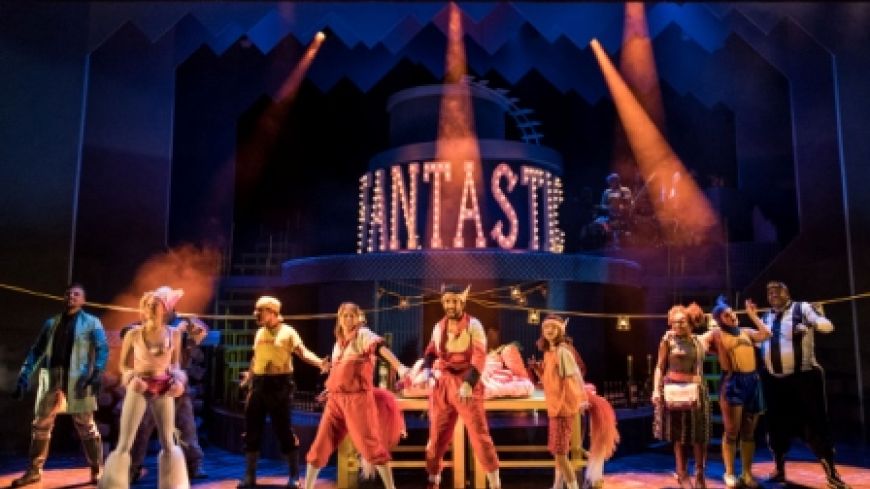 Company
A Nuffield Southampton Theatres & Curve production in association with Lyric Hammersmith
Production
Roald Dahl (orginal book), Sam Holcroft (stage adaptation), Arthur Darvill (music), Darren Clark, Arthur Darvill, Sam Holcroft & Al Muriel (lyrics), Maria Aberg (director), Tom Scutt (designer), Lee Curran (lighting designer), Claire Windsor (sound designer), Ayse Tashkiran (movement director), Richie Hart (musical director).
Performers
Richard Atwill (Rat/Bean), Greg Barnett (Mr Fox), Patrick Burbridge (Bird#2), Raphael Bushay (Badger/Boggis), Jade Croot (Kit), Lillie Flynn (Mrs Fox), Anna Fordham (Bird#3), Sandy Foster (Rabbit), Gruffud Glyn (Mole/Bunce), Richie Hart (Bird#1), Kelly Jackson (Mouse).
Roald Dahl's Fantastic Mr Fox is full of fun with a simple, cheery message for children that adults would do well to heed.
Dahl's exciting adventure story about a fox forced to outwit three armed and dangerous nasty farmers in order to put some food on his family's table, is given some musical numbers, additional characters and a tweaking of the plot. If some of the antics are a bit silly and the message of working together and helping our friends is a little laboured for adult tastes, it certainly appeals to the younger audience who are both numerous and very vocal in their support of Mr. Fox.
A delightful barbershop quartet of birds opens the show, quickly becoming a trio when one of them is shot by one of the farmers from one of the theatre boxes. This sets out very clearly who the goodies and baddies are in this show. The farmers are the greedy, selfish and murderous baddies, while Mr. Fox, his family and friends are the caring-sharing good guys. And what a bunch of characters Mr. Fox's friends turn out to be!
Badger is solid and reliable but does like to over-plan; Rabbit is a hilarious air-head and while Mouse sings about cheese, Mole concerns himself only with types of rock and soil. But Mr. Fox finds he needs all of them and their particular, unique abilities to outwit the furious farmers. It's also a nice touch that the ever-sensible, pregnant, Mrs. Fox is the one who saves her impetuous husband's life and their fox cub Kit also contributes her individual skills to their successful mission.
This fast-paced, energetic show is full of warmth and humour. Tom Scutt's two-tier set design provides functional above-and-below-ground areas - although could do with livening up a bit - and dressing the foxes in matching orange and white shell suits evokes all the right connotations. The live music provided by the barbershop birds playing a dizzying array of different musical instruments, from classical to rock, is arguably the most impressive performance of the whole show.
That said, it's a strong cast all round who provide the audience with a great night out (especially if you're under 12) and ample opportunities to boo the baddies (something the adults may appreciate too). Theresa May and her support of fox hunting should take heed and steer well clear of the Edinburgh area for the next few days at least…
Runs 15th – 20th May