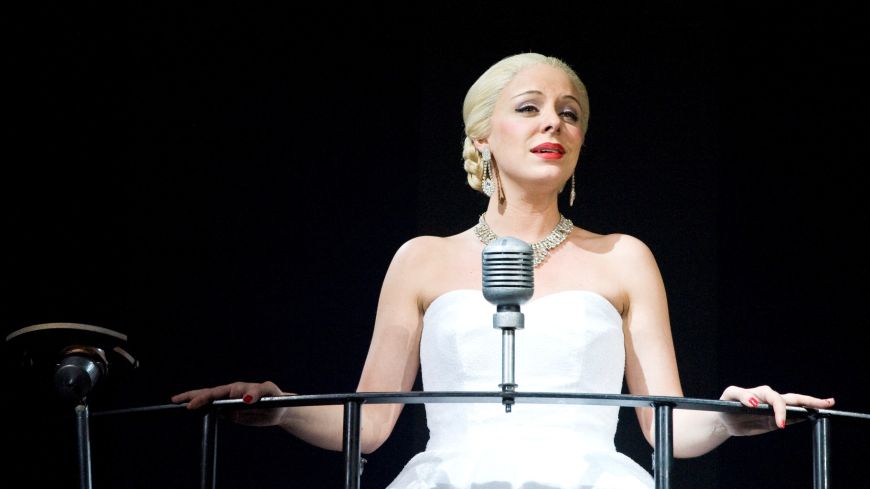 Company
Bill Kenwright by special arrangement with the Really Useful Group
Production
Bill Kenwright, Bob Tomson (Directors), David Steadman (Musical Supervision/Arrangements), Matthew Wright (Designer), Bill Deamer (Choreography), Mark Howett (Lighting), Ben Harrison (Sound)
Performers
Abigail Jaye(Eva), Mark Powell (Che), Earl Carpenter (Peron), Sasha Ransley (Mistress), Reuben Kaye (Magaldi)
A 'riveting' second half raises this touring production of Andrew Lloyd Webber and Tim Rice's 'Evita' to the level audiences have come to expect from their collaborative work.
The story of Eva Peron's rise and fall seemed to go in opposite directions: the first half was competent and stylish, but without reaching the heights that followed in a spell-binding second part covering her ultimate fame, fall from grace, and subsequent death.
The show starts with the atmospheric scene of her body on display, guarded by soldiers, and being visited by her grieving husband, President Peron of Argentina.
'Che', the mocking narrator, sets the tone with one of the best known songs 'Oh, what a Circus!'
Mark Powell as 'Che' is very good at acting his songs out, getting the point across to the audience that this is a critical account of the heroine's journey from rural village to an actress making her name through the casting couch route.
At times his style seems nonchalant, understating the lyrics by not adding bite to his delivery. He was almost 'Citizen Smith' (older readers will remember the Robert Lindsay character) rather than 'Che', but his performance was rewarded by extra applause from a good Monday night house.
The well-known songs of the first half include 'On this night of a thousand stars' sung with pizzazz by Reuben Kaye and 'Another suitcase, another hall' where Sasha Ransley as the departing mistress brings out every ounce of feeling for the number associated with Barbara Dickson.
Abigail Jaye in the lead starts to build her performance from the teasing 'I'd be surprisingly good for you' into the second half, demonstrating  not only the power of her voice, but the power that her character has achieved. Her descent is beautifully acted and alongside Earl Carpenter who is every centimetre the President, they dominate the Playhouse stage.
While 'Don't cry for me Argentina' is the song most associated with 'Evita' both 'High Flying Adored' and the 'Money Keeps Rolling in' are highlights of Act 2.
This is a well dressed show, with excellent use of lighting supporting simple, but striking sets.
The ensemble cast, including the children, is slick in support of their principals adding credibility to the developing story. While the music in the first half is of its time and culture, the less well known numbers can be problematic in terms of grasping the entire story, so a quick look at the synopsis  in the programme before curtain up may help.
The themes of this musical are serious and unlike other musicals, there are no comic moments but the ability to hear the 'proverbial' drop during the closing scenes is testament to the quality of this production.
Runs to Saturday 4th June, 7-30pm. Matinees Wednesday & Saturday 2.30pm