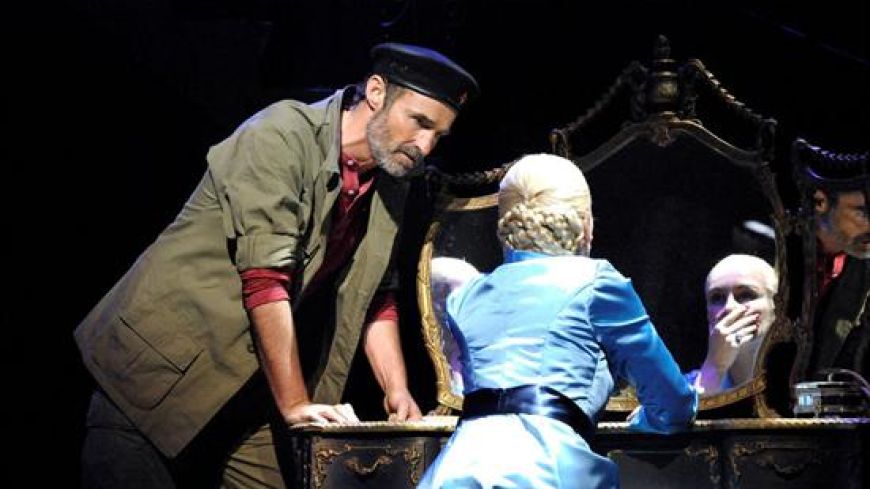 Company
Bill Kenwright Ltd
Production
Bob Tomson (director), Tim Rice (lyrics), Andrew Lloyd Webber (music), Matthew Wright (designer), Bill Deamer (choreographer), Mark Howett (lighting designer), Ben Harrison (sound designer), David Cullen (orchestrations), Matthew J Loughran (musical director).
Performers
Marti Pellow (Che), Madalena Alberto (Eva), Mark Heenehan (Peron), Sarah McNicholas (Mistress), Nic Gibney (Magaldi).
Evita is a musical with a mighty reputation. Anyone playing Evita carries the weight of expectation built by Elaine Paige and Madonna; Chė needs to debunk delicious memories of David Essex and Antonio Banderas; and could anyone, realistically, ever hope to outstrip Barbara Dickson's definitive rendition of Another Suitcase in Another Hall? The anticipation of waiting for the key numbers that would decide who had overcome their heavy burden, and who was struggling not to crack under the strain, was palpable.
The performance begins with the announcement of the death of Eva Perón, affectionately known to all as 'Evita'. The outbreak of mourning across Argentina and the lavish state funeral that follows is cynically assessed by the narrator, Chė, in the show's first big number Oh What a Circus.
He then takes us back in time, introducing a 15 year old Eva who is seen blackmailing her first lover into taking her with him to Buenos Aires and, from there, sleeping her way right to the top. By the time Eva meets Juan Perón, she is a well-known actress and he is arguably the most important man in the country: they agree that they could be 'surprisingly good' for each other.
She ambitiously engineers his presidential victory only two years later and becomes the first lady of Argentina, winning the hearts of ordinary people through a range of social reforms. By the time she dies of cancer aged only 33, she has been named the 'Spiritual Chief of the Nation.' The performance has now come full-circle and we end where we began, but a little wiser for the journey.
This musical is one of the Webber-Rice pair's best, rocketing as it does from one knock-out number to the next at break-neck speed. At times it did feel a bit fast and furious: the set-design extravaganza of impressive pillars, balconies and staircases that flew in and rolled out, seemed determined to keep pace with the song changes; the range of chairs and the complicated chair-ography that accompanied them was super-slick - but together, all a little over-dazzling.
Madelena Alberto in the title role brought a vibrant and flirtatious Latin feel to the teenage Evita and was convincingly conniving and confident in her portrayal of the middle years. But she truly came into her own depicting the dying Eva: her delivery of You Must Love Me, delicate and heart-rending.
Marti Pellow as Chė had all the charisma but none of the punch or vocal strength to carry this difficult role – although he too improved significantly as the performance progressed and received an almighty cheer from the audience in the final bows. Sarah McNicholas made a sterling effort, singing Barbara Dickson's number with suitably naïve vulnerability, but failing to ring out the very high notes and so stopping just short of wringing the heart strings.
All in all, it was a great evening's entertainment, and the minor disappointment felt when some of the party pieces didn't quite come off was outweighed by some unexpectedly powerful portions. Given the amount of baggage that comes with this show, they mostly gave the impression of travelling pretty light.
Show times
Til 8 Feb, 7.30pm, mats Wed & Sat 2.30pm
Tickets
£12.90
Read Gordon Clayton's review of Evita, May 2011