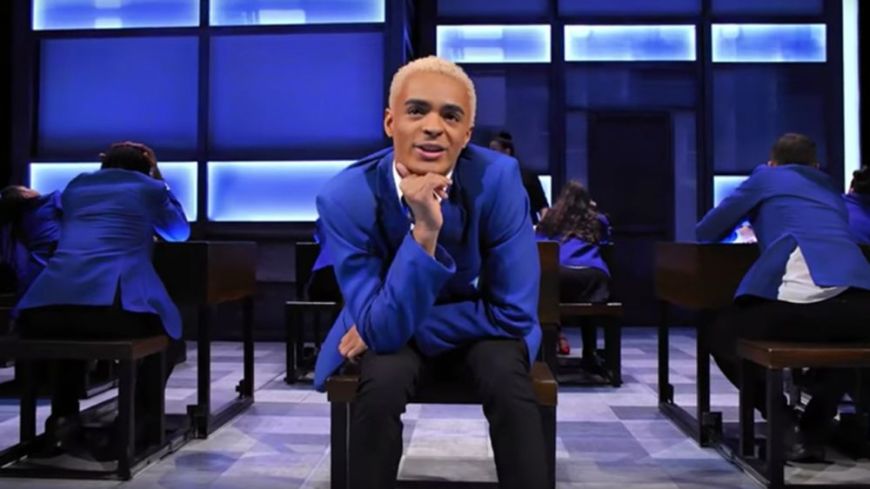 Production
Tom Macrae (Book and Lyrics), Johnathan Butterell (original director and co-writer), Dan Gillespie Sells (music and orchestration), Matt Ryan (director for the UK tour), Anna Fleischle (designer), Kate Prince (choreographer), Lucy Carter (lighting designer), Paul Groothus (sound designer), Luke Halls (video designer), Theo Jamieson (musical supervisor), Will Burton (casting director), Danielle Lecointe aka RHIMES (associate choreographer), Patrick Molony (production manager), Cameron Johnson (resident director), Simeon Beckett (dance captain), Matt Henry (company manager), Matt Elesmore (stage manager), Jo Dunne (deputy stage manager), Elizabeth Patrick (assistant stage manager), Sean Teng (assistant stage manager), Oliver Scott (technical swing), Mark Karrie (head of sound), Jonny Else (sound no. 2), Charles Hickey (touring chief electrician), Liam Wise (touring electrician 2), Bex Bridges (touring electrician 3), Thomas Bailey (touring carpenter), Iwan Harries (head of wardrobe), Melissa Hamill (wardrobe assistant), Katie Ross (head of wigs, hair and make up)
Performers
Layton Williams (Jamie New), Shane Richie (Hugo / Loco Chanelle), Shobna Gulati (Ray), Amy Ellen Richardson (Margaret), Lara Denning (Miss Hedge), George Sampson (Dean Paxton), Sharan Phull (Pritti Pasha), Cameron Johnson (Jamie's Dad), Garry Lee (Sandra Bollock/ Understudy Dad and Drags), JP McCue (Laika Virgin), Rhys Taylor (Tray Sophisticay/ Understudy Hugo / Loco Chanelle) Richard Appiah-Sarpong (Cy), Simeon Beckett (Levi), Kazmin Borrer (Vicki), Ellis Brownhill (Mickey / Understudy Dean), Jodie Knight (Fatimah), Jessica Meegan (Bex / Understudy Pritti), Talia Palamathanan (Becca), Adam Taylor (Sayid / Understudy Jamie), Alex Hetherington (Swing), Emma Robotham-Hunt (Swing), Ellie Leah (Understudy Margaret / Ray / Miss Hedge), Benjamin Holder (Musical Director), Sam Hall (Guitars and cover MD), Dan Hall (Bass Guitar and Bass Synth), Dave Ruff (Tenor Sax), Will Smith (Trumpet, Flugelhorn, Piccolo), Dave Stewart (Drums), Owen Williams (Percussion)
Now we know why this is the show everybody's talking about. The West End phenomenon Everybody's Talking About Jamie, now on its UK tour, has captured the hearts of its audiences, no small part due to the fact that its translated to the stage from a true story.
BBC Three's documentary Jamie: Drag Queen at 16 shows Jamie Campbell, a 16-year old boy from County Durham who isn't like all the other boys in his year. Jamie has a dream - a dream to be a drag queen. Jamie seeks out the help of a local drag star for advice, who then invites him to perform in his show. With a successful performance and an unfailingly supportive single mum behind him, Jamie builds the confidence to stand up to protesting teachers and snarling school parents and turn up in drag to the prom - even though he's been promised to be denied entry.
Everybody's Talking About Jamie brings this story to the theatre, with book and lyrics by Tom Macrae and music by Dan Gillespie Sells. In this iteration, Jamie New navigates the schoolyard with his best friend, Muslim student Pritti Pasha, by his side. His mum Margaret, and her best friend Ray, become the backbone of home, lifting him up when his dad or teachers or schoolmates hurl ugliness at him. Local drag star Loco Chanelle takes Jamie under his wing and encourages him to perform in his drag persona Mimi Me, and, as days until prom count down, Jamie builds the confidence to show up in life as himself, with his classmates showing up for him in the end.
The score is one that stays with you - with poignant ballads, catchy pop numbers and clever lyrics. The set is resourceful, projections capturing the grey bricks of the housing block and the walls opening like a doll's house to reveal the sunny glitter that lives within, popping around the everyday life of kettle boiling and washing on the rinse.
While the home interior may be a convincing display of everyday Sheffield life, the woman that lives within it is anything but ordinary. Mum Margaret, played by Amy Ellen Richardson, has a show-stopping display with vocally and emotionally challenging "My Boy". Shane Richie as Loco Chanelle has a growly brassy belt, but his performance and storyline struggle to shine alongside that of his fellow leads.
Layton Williams as Jamie encapsulates the essence of the real Jamie Campbell, that, at his true centre, has a grasp on who he is despite the remarks of judgement that oftentimes come from growing up different in a small town. Trekking through the treacherous waters of high school, Williams' Jamie meets every obstacle with wit, clippy but endearing sarcasm and a kicky, electric comportment.
Layton is a considerate vocal actor, using all the tools in his toolbox to deliver not only the vocal performance but also a character and narrative, be that through breathy, belt-y, or soulful. He isn't that musical-theatre-polished male singer, but that is what makes his performance so great, so real. Often beginning mellow, he builds throughout the song and takes the audience through Jamie's exciting coming-of-age tale.
Taking a cue from Jamie New, "WOW on chips" is the gut reaction to genuinely funny and fierce Everybody's Talking About Jamie, an inspiring display of self-love and acceptance that sinks into anyone who has felt on the peripheral. It shows what magic can happen when children are loved and supported unconditionally at home, and it makes you wonder just how much magic goes amiss at the hands of less decent parents and adults. Celebrating families of all shapes and a pride in your inner power, the love is loud with Jamie. 
Tickets here
TUE 03 MAR TO SAT 07 MAR 2020
Evenings 7.30pm Matinees Thu & Sat 2.30pm
Running time (approx.): 2 hours 40 minutes (incl. 20 min interval)
Age: 12+ Parental discretion advised. Contains some strong language and mild sexual references. Strobe lighting is used throughout the performance.
FESTIVAL THEATRE
BOX OFFICE: 0131 529 6000