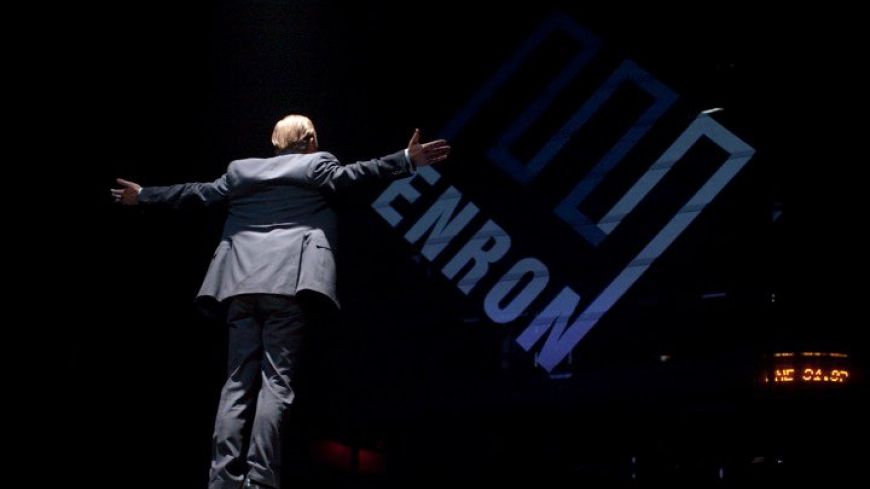 Company
Headlong Theatre, Chichester Festival Theatre and Royal Court
Production
Rupert Goold (director), Lucy Prebble (writer), Anthony Ward (designer), Mark Henderson (composer), Jon Driscoll (choreographer)
Performers
Corey Johnson (Jeffrey Skilling), Paul Chahidi (Andy Fastow), Sara Stewart (Claudia Roe), Clive Francis (Ken Lay), with Shane Attwooll, Leila Benn Harris, Matt Blair, Saskia Butler,Simon Coombs, Matt Dempsey, Susannah Fellows, Derek Hagen, Ed Hughes, Jason Langley, Antonio Magro, Zoe Smith, Richard Taylor Woods, Ewan Wardrop, Scarlett Gray, Olivia Horne
Some of us remember the lines of disbelieving refugees exiting Enron's headquarters when disaster struck, carrying the memorabilia of their working lives in cardboard boxes. It's an image that refuses to be deleted, perhaps because we suspected that this was not the end, merely the beginning of the end.
Lucy Prebble's re-imagining of the rise and fall of the energy company which presaged the near-collapse of the financial sector is energetic and sometimes engaging. It's also long, but short on effective exposition and rather wobbly in terms of structure (rather like its subject, one might say).
There's a strong cast of principals here – Paul Chahdi, Clive Francis, Corey Johnson and Sara Stewart – giving fine performances ably supported by their fellow company members.
This is a lively production, with some moments of real theatricality – the Lehmann Brothers as a single-coated Tweedledum and Tweedledee are a pantomimic delight. Their minor theatrical coup, however, feels as out of place as the Traders whose tic-tac seems more driven by choreography than Darwinian capitalism.
The real problem, however, is that ethics is subsumed by personality clashes and board-room battles, leaving the audience more than a wee thing puzzled as to what Prebble is trying to say – the play's attitude to Enron and the culture which brought it into being isn't really made explicit, even as it lumbers toward its over-extended ending.
Enron seems to be a play from which a made-for-TV drama-documentary is desperately trying to escape; David Mamet laid bare the horrific thrills of visceral competition in 'Glengarry Glen Ross' while David Hare's 'State of the Nation' plays and dramatised documentaries have shown the ugly underbellies of our institutions. Prebble's depiction of the in-fighting at Enron both reduces the 'little people' to cameos and dodges tussling with the short and long-term results of unfettered capitalism.
Despite the best efforts of both cast and production team, this Enron is no more of a 'Buy' than its ill-fated original.
Show times
Runs 9-13 November, 7.30 pm (Sat 13 Nov, 2.30pm)
Ticket Prices
£14 - £26.50