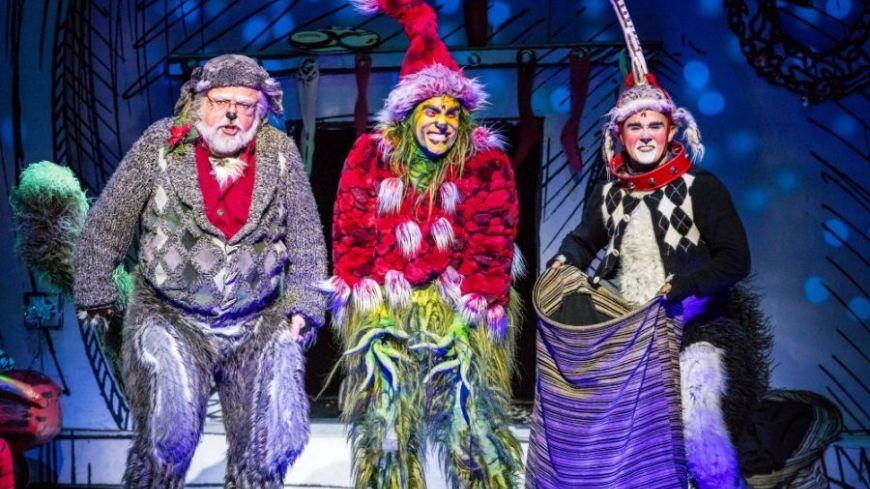 Company
Simon Friend, Gavin Kalin, Phil McIntyre, Eilene Davidson and Running Subway.
Production
Dr.Seuss [Dr. Seuss Enterprises, LP] (writer), Timothy Mason (book and lyrics), Mel Marvin (composer) [additional music and lyrics Albert Hague and Dr. Seuss], Matt August (director), Christian Drummond (associate director), Bob Richard (choreographer), Jaye Elster (associate choreographer), John Lee Beatty (set designer), Ben Cracknell (lighting designer), Richard Brooker (sound designer), Robert Morgan (costume designer), Richard John (musical director), Michael Starobin (orchestrator), Joshua Rosenblum (Incidental / vocal music arranger), David Krane (dance music arranger), Susan Brandt (associate producer).
Performers
Edward Baker-Duly (The Grinch), Steve Fortune (Old Max), Matt Terry (Young Max), Karen Ascoe (Grandma Who), David Bardsley (Granpa Who), Holly Dale Spencer (Mama Who), Alan Pearson (Papa Who), Isla Gie (as seen), Sophie Woods, Eve Corbishley, Bebe Massey (in rotation) Cindy Lou Who, Gregor Fisher (Narrator), Nicola Barney (Annie Who), Nina Bell (Betty Lou), Lydia Bradd (Bugsy), Ana Cardosa (Scallops), Elena Christie (Phyliss), Sophie Leigh-Griffin (Gymslip), Lawrence Guntert (Sporty), Zoe Humphryes (Danny Who), Monifa James (Reno / Rugby), Sarah-Marie Maxwell (Trixie), Craig Nash (Palm Springs), Jessica Pardoe (Auntie), Andrew Pepper (Buzz), Lucy May Pollard (Punky), Callum Train (Timey), Ellen Whitehead (Boo Who). Orchestra – Richard John, Ewan Anderson, Rob Wicks (keyboard), Claire Mcinerney, John Graham, Toby Kelly (reeds), Tom Tait, Kevin Wedrychowski (trumpets), Andy Watson (trombone), Sandy Suchodolski (bass), Kevin Campbell (drums / percussion).
"Every Who down in Whoville liked Christmas a lot, but the Grinch, who lives just north of Whoville did not!"
For 53 years the Grinch has lived a lonely existence, perched 3000 feet up Mount Crumpit.  He is one of a kind, without kinfolk, family or friends.  And each passing year has seen him grow to hate a certain season more and more.  He can't bring himself to utter the C word, such does he hate Christmas, perhaps for a number of reasons, but the best guess is that his heart is two sizes too small.
With the festivities approaching he can hear the sounds of the warm-hearted residents of Whoville carolling and making merry, busy with all their preparations.  He must stop it, banish it forever, but how?
The story is told by Max, now an older and wiser dog, who was the Grinch's only companion.  We see him as his younger self, his puppyish devotion spurned by his master who keeps him on a tight lead. 
The town is full of noise and toys, shopping, cooking and feasting, fit to give the Grinch conniptions, but it also sparks a wonderfully rotten idea.  A visit by Saint Nick will take on a different meaning as the Grinch descends upon the unsuspecting Whos. 
Only kind hearted little Cindy Lou, awaking from a nightmare, stands in his way to perhaps convince the Grinch that Christmas "means a little bit more".
The story is, of course, based on the writings of Dr. Seuss, or Theodor Seuss Geisel to give him his full name.  The American children's author, political cartoonist, illustrator, poet, animator, screenwriter, and filmmaker wrote more than 60 books, selling many hundreds of millions of copies worldwide and which have spun off into TV adaptations, films and musicals. The original of this work broke box office records for two consecutive years on Broadway.
It is told in the trademark rhyming verse of the books and the set captures their art style with sketchy, cartoon-like flats of the buildings, scenery and props. The characters are in contrast an eye-popping 3d, costumed to produce strange body shapes and topped off with extravagant coiffed hair. 
As well as looking good it is nicely performed, the Grinch capturing more than a little of the Jim Carrey persona from the movie and the challenging role of Cindy Lou pulled off by Isla Gie with aplomb.  There is a light dusting of panto and a few updates to its more than six-decade age.  While the cast are named, all those other than the main characters become an ensemble. The start is a slow burn (or thaw) with narrator Gregor Fisher appearing casually dressed before the curtain, seemingly confused as to why he is reading half the story we are about to see played out.
Like Scrooge, The Grinch holds a mirror up to the real meaning of Christmas.
Bright, colourful and enthusiastically told – you would need to be a Grinch not to be warmed by it.
Show times: 26 November to 1 December 2019 at 7.30pm (excl. Sunday); Friday matinee 2.30pm; Saturday matinees 11am and 2.30pm; Sunday matinees 1pm and 4pm.
Tickets: £28 to £48. 
Accessibility: Captioning 28th; BSL and audio description 29th (7.30pm).