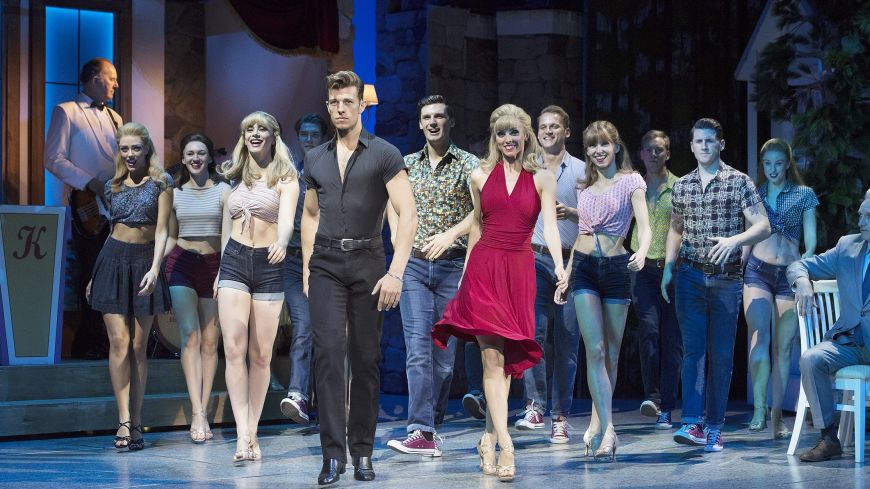 Company
Magic Hour Productions
Production
Eleanor Bergstein (Writer), Federico Bellone (Director), Gillian Bruce (Choreographer), Roberto Commotti (Set Design), Jennifer Irwin (Costumes), Valerio Tiberi (Lighting Design), Armando Vertullo (Sound Design), Richard John (MD)
Performers
Lewis Griffiths (Johnny Castle), Katie Eccles (Francis 'Baby' Houseman), Carlie Milner (Penny), Julian Harries (Jake Houseman), Simone Craddock (Marjorie Houseman), Nigel Nevinson (Mr Schumacher), Tony Stansfield (Max Kellerman), Michael Kent (Billy Kostecki), Greg Fossard (Neil Kellerman), Lizzie Ottley (Lisa Houseman), Sophia Mackay (Elizabeth), Jo Servi (Tito Suarez), Ashley Rumble (Robbie)
Having made over 10 million since its 2006 West End debut with the highest advance sales in history, there's no denying the popularity of Eleanor Bergstein's classic coming-of-age tale, yet there's frustration that it doesn't adapt the familiar fable for the stage rather than a scene-for-scene transfer of the movie, regardless of whether it works theatrically.
Dirty Dancing – The Classic Story on Stage does what it says on the tin. It puts the film in front of your eyes, hampering it to perform as well as its celluloid counterpart, with Federico Bellone's directing feeling lazy and unimaginative.
There's a missed opportunity to branch out and showcase more of the underlying socio-political backdrop to the original, which infringes on feminism, abortion and the rigid class divide of 1960s America which was gearing up for generational revolution – and the hampered, additional campfire scene should be wiped out. Most of the characters are cookie cutter variations on clichés or characterisations from the film, however Carlie Milner's Penny adds a bit of clout despite the little room given to her story.
But regardless of the faults at its heart, it's not stopping the crowds clambering in and their reward is a talented, energetic cast headed by Lewis Griffiths and Katie Eccles who manage electric on-stage chemistry amidst Gillian Bruce's fluid and thrilling choreography.
Eccles may be slight, but she has a powerful comic heart and great physicality in her journey from sheltered virgin to confident young woman, albeit never quite mastering the sensuality of the moves. This juxtaposes well with Lewis Griffiths' Johnny – a strutting peacock of attitude that ebbs away as his guard is dropped in a charismatic performance (and admirable coping with the inevitable whoops!).
Michael Kent's Billy and Sophia Mackay's Elizabeth belt out the live tunes when it's required (there's no logic, just go with it) with a sound that peaks and troughs in success, and filler moments in the drawn-out second act are awkward, like some half-hearted audience participation in Kellerman's rainy-day games, by this point everyone just wanting to see that signature lift, which is a pay-off, with Griffiths able to sustain the moment for the hungry eyed audience to enjoy.
This isn't a clever, groundbreaking or hugely inspiring production, in fact it's severely flawed, yet it remains highly entertaining – it just wants you to have the time of your life and escape reality for a few hours. So, go shake your maracas.
At the Edinburgh Playhouse until 17 June, then Glasgow King's Theatre, 19 – 24 June.