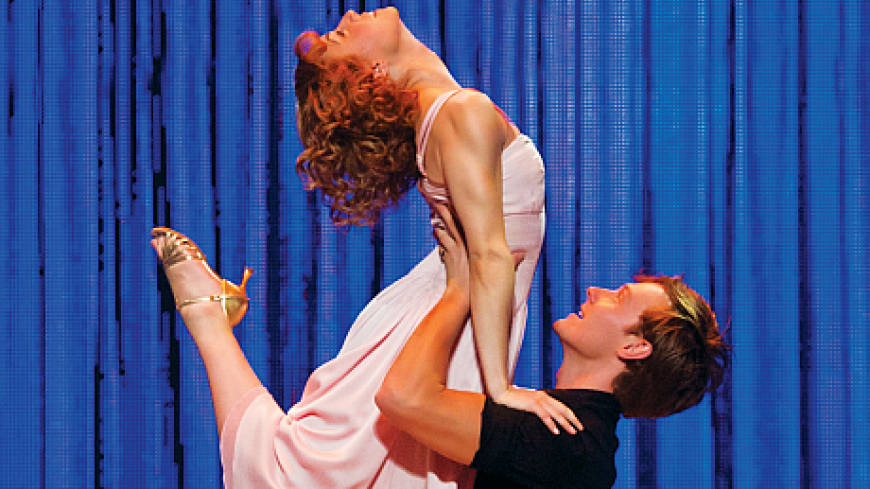 Company
Karl Sydow & Joye Entertainment in association with Lionsgate & Magic Hour Productions
Production
Sarah Tipple (Director), Kate Champion (Choreographer), Conrad Helfrich (Music Supervisor), Jon Driscoll (Video & Projection Design)
Performers
Paul-Michael Jones (Johnny), Jill Winternitz (Baby),
Nicky Griffiths (Penny), James Coombes (Dr Houseman), Julia Nagle (Mrs Houseman), Emilia Williams (Lisa)
Superb Finale sends female fans home happy! This touring production of 'Dirty Dancing' is now installed at Edinburgh Playhouse for a six week period over the Festive season. It's certainly removed from the traditional pantomime fare, with some fairly explicit scenes suitable for an adult audience.
Visually stunning, this production comes complete with some of the most creative scenery and special effects that I have seen on an Edinburgh stage.
The audience is returned in time nearly 50 years, but more importantly to the summer of 1963 when you can forget the winter chill and enjoy the warmth of vacationing at 'Kellermans' an upmarket holiday resort.
The temperature rises even higher behind closed doors where the off-duty entertainers indulge in some 'Dirty Dancing'.
Our heroine is only 17 years old. Frances 'Baby' Houseman daughter of Dr Jake Houseman, who is personal physician to the owner. If you have not seen the film or forgotten the story, 'Baby' soon falls for the lead dancer (Johnny) and gets entangled with the lives and loves of the staff as well as learning some new moves that would not get parental approval.
There is a serious theme behind the dancing involving taking you back to a time when abortion was illegal and the consequences that can follow. Within the plot 'Baby' grows up as she dances through family conflict to win through.
Expecting a sizzling sensation, the first half was an extremely slow burn and while Paul-Michael Jones had the (Swayze effect) on the female audience, this production hardly brought the film to life even with the scenic enhancements.
The training in the lake is especially effective, but tricks are a poor substitute for dialogue.
Humour is very gentle and while there is some snappy dancing, there is little building of the relationship between the leads until their big scene before the interval.
The second half picks up the pace with Emilia Williams drawing the first sustained applause for a comic number. Jill Winternitz as 'Baby' makes a credible transition from daddy's girl to Johnny's partner and is fantastic in the grand finale.
Paul-Michael Jones Struts his stuff and gets roars of approval when he gets his top off and certainly all his moves are appreciated by a predominantly female audience.
Fed a diet of 'Strictly' on television I expected the dancing to be in a class of its own and it was good without being outstanding.
Some of the more mature parts were very well defined but some of the younger members failed to make an impact. Nicki Griffiths as the dancer who is pregnant is the exception to that and she is excellent throughout.
The finale "(I've had) the time of my Life" is an iconic scene in the film, as it was here.
Runs to 12th January 2013