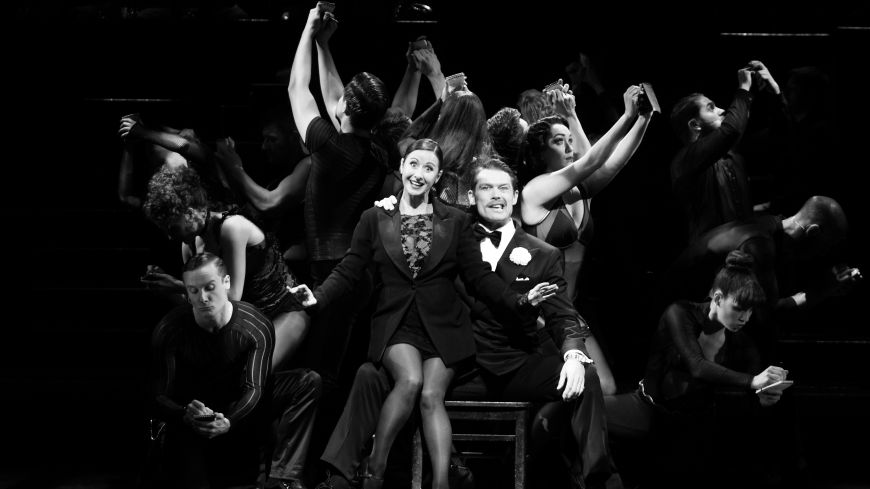 Company
David Ian & Michael Watt in association with Barry & Fran Weissler
Production
Fred Ebb (lyrics), John Kander (music), Fred Ebb & Bob Fosse (book), Maurine Dallas Watkins (orginal play), Bob Fosse (original choreography), Ben Atkinson (musical director), John Lee Beatty (scenic design), William Ivey Long (costume design), Ken Billington (lighting design), Ann Reinking (choreography), Tania Nardini (associate direcftor).
Performers
Sophie Carmen-Jones (Velma Kelly), Hayley Tamaddon (Roxie Hart), John Partridge (Billy Flynn), Neil Ditt (Amos Hart), Sam Bailey (Matron 'Mama' Morton),Lindsey Tierney (Liz), Ellie Mitchell (Annie), Nicola Coates (June), Frances Dee (Hunyak), Chelsea Labadini (Mona), Emily Warner (Go-To-Hell Kitty), A.D. Richardson (Mary Sunshine)
It's sleazy. It's sassy. It's Prohibition-era Chicago, where guns are easy to come by and the girls are getting away with murder.
The show runs like a vaudevillian dream. It's also classic 'Fosse'. If the name means nothing to you, the style should ring a bell. Think sultry women and burlesque chair choreography with straddled poses, pelvic grinds and backward leans. Think sheer black stockings, a bowler hat artfully tilted over one eye. If this conjures Lisa Minnelli in Cabaret - the film Bob Fosse directed 3 years before choreographing Chicago - then you get the picture.
Our two anti-heroines, Velma (Sophie Carmen-Jones) and Roxie (Hayley Tamaddon), look more glamorous than murderous and, luckily, an all-male jury is easily duped by a pretty face. Under the mastermind of spin-doctor-cum-lawyer Billy Flynn (John Partridge), the guilty pair rehearse their court appearances with a ruthless attention to detail and a shameless disregard for truth.
It's a world where celebrity, fame and money trumps ethics, truth and justice; a world in which folk will say and do anything to get their picture in the paper - just imagine! But playing down the darker side, this is jazz-hands, high-kicking, show-biz all the way.
A jazz band is in situ, with a cool double-bass, sax, trumpets and trombone, a tuba player fond of a high kick and a conductor who's no stranger to a backward lean. Beneath a row of coloured spotlights flanking the stage, the cast sit on a row of chairs waiting to perform their next number.
Playing out the plot through a series of well-rehearsed acts and routines, the cast epitomise the Fosse style with jutting hips, gyrating bodies and tea cup fingers. 'The Clump' comes into its own in the big production numbers, as the cast en masse move in a writhing cluster, releasing whispers and guttural emissions, displaying the impact wrought through economy of movement and the power of a single gesture.
There's a lot of great singing and dancing from the three leads as well as the supporting crew, and 2013 X Factor winner Sam Bailey puts in a gutsy rendition of When You're Good to Mama. It's a fun and frivolous version of Chicago that's highly entertaining, clean and slick - but wouldn't hurt from dirtying up a bit. No-one here was afraid to show their feminine side, but they could have been a bit braver about embracing the dark side.
Runs 13th – 18th June