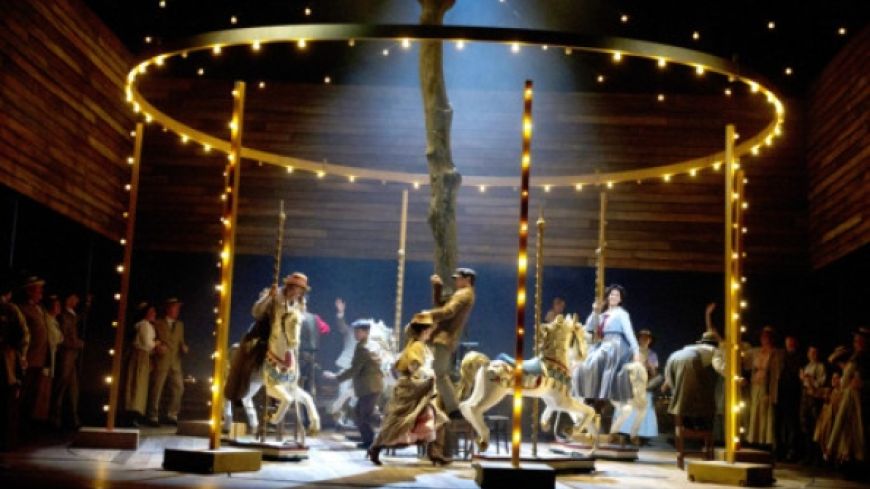 Production
Richard Rodgers (music), Oscar Hammerstein II (Lyrics), Jo Davies (director), Anthony Wood (set and costumes), Kay Shepherd, Kim Brandstrup (choreography), Andrzej Goulding (video)
Performers
Keith Higham (Billy), Gillene Butterfield (Julie), Michelle Moran (Mrs Mullin), Aoife O'Sullivan (Carrie), Joseph Shovelton (Mr Snow), Russell Dixon (Starkeeper), Beverley Grant (Louise). Plus dancers, children, and the Chorus of Opera North;
The Orchestra - James Holmes (conductor).
Premiered in New York in 1945, 'Carousel' was a phenomenal hit running for almost 900 performances. Time magazine named it the best musical of the 20th century.
Ferenc Molnar's 1909 Hungarian play 'Liliom' was seen as the ideal tragic Opera plot by Puccini but Molnar refused and he also declined another offer from Kurt Weill to adapt the story into a musical.
After the critical success of 'Oklahoma!', Molnar entrusted Richard Rodgers and Oscar Hammerstein II to turn 'Liliom' into a Broadway Musical Play."
The setting was transferred from Budapest to Maine, New England after Rodgers imagined a fully realised drama on stage:
"I began to see an attractive ensemble—sailors, whalers, girls who worked in the mills up the river, clambakes on near-by islands, an amusement park on the seaboard, … people who were strong and alive and lusty .."
The orchestra launches into the melodic "Overture" during the Prelude pantomime in which a little boy, Billy is given a toy horse, then the years pass as we fast forward to 1915.
Centre stage is a neon-lit Carousel, the painted fairground horses prancing around and around on the revolve - quite magical in the way this scene is created in an instant. The quick-changing set shows the seashore, clapperboard houses, jetty and backdrop of masted schooners and fishing nets.
Then we are introduced one by one to the various colourful characters of this god-fearing, hard working community. Liliom is an Hungarian slang term for "tough guy." This is Billy, now a young man and a bit of a rebel working at the Fairground and eyeing up the pretty girls – Julie Jordan and her best friend Carrie.
Julie decides to stay out late, risking her job at the Mill, for a romantic tete a tete. Cue the duet, "If I Loved You, Time and again I would try to say, All I'd want you to know, If I loved you, Words wouldn't come in an easy way …"
....and so innocent young love is sparked as Spring blossom falls from the trees.
The narrative however is not all a sugar-sweet, sentimental romance. Billy and Julie plan their wedding but he is out of work due to the jealous notions of the Carousel manager, Mrs Mullin. In frustration he bullies and beats his wife. Desperate for money, he attempts a robbery to support Julie and their unborn child but crime does not pay and he kills himself in repentance.
Within sight of the staircase to Heaven, Billy is told by the Starkeeper that he will never get there until he redeems himself. In similar vein, Powell and Pressburger's movie, "A Matter of Life and Death," focussed on the plight of a British airman caught between heaven and earth.
'Carousel' is a timeless exploration of human frailty, resilience and the power of forgiveness. Julie and her daughter Louise struggle on without a husband and a father. Bubbly, blonde Carrie has settled down, bringing up a large family with Mr Snow, an upright, law abiding fisherman. In one comic scene, as a cheeky nod to Captain Von Trapp, Snow also keeps his children in military order by blowing a whistle.!
Rodgers and Hammerstein used the formal structure of operetta combined with a contemporary approach to the score and lyrics; the songs are integral to the libretto furthering plot and characters. Rousing choral numbers, "June is Bustin Out All Over" and the soulful "You'll Never Walk Alone" are balanced by gentle ballads such as "When the Children are asleep".
With fast-paced action, music, song, dance, and a glorious ballet sequence reviving the original Agnes de Mille choreography, this is multi-media production directed by Jo Davies with fine attention to detail - set design, vintage costumes, lighting and atmospheric film footage: the imaginative, artistic vision of people, place and period is like a cool, composed scene of an Edward Hopper painting.
Celebrating the 70th anniversary of 'Carousel,' this welcome revival is a seamless, dreamlike waltz of a show, rich in emotion with powerful, poignant performances from the superlative Opera North ensemble and the Orchestra.
Show times
2 - 6 June, 2015
Evenings, 7.30pm. Matinees, Thur and Sat, 2.30pm.
Ticket prices: £22.50-£50
Thur Matinee, £17.50-£45