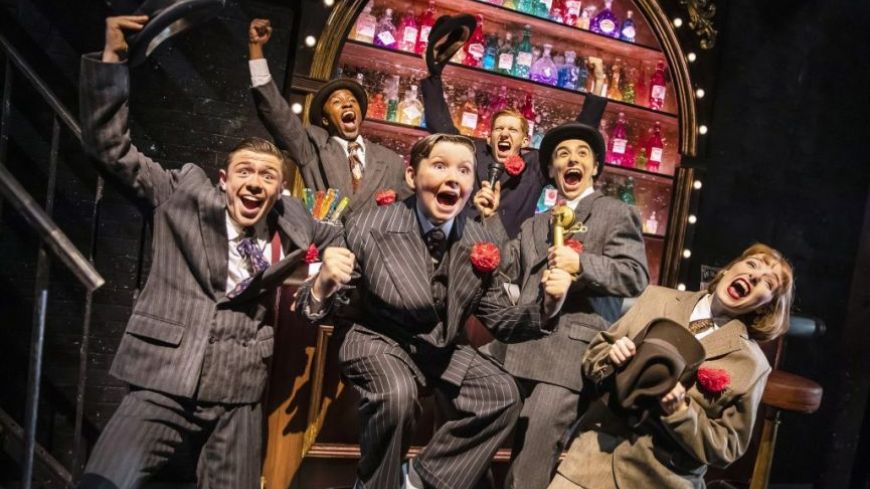 Production
Alan Parker (Story), Paul Williams (Words and Music), Sean Holmes (Director), Jon Bausor (Set and Costume Design)
Performers
Amar Blackman (Bugsy), Avive Savannah Williams (Blousey), Charlie Burns (Fat Sam), Tazia-Faye Katsande (Tallulah), Rayhaan Kufuor-Gray (Dandy Dan),
What gives? We were told there was a real nice speakeasy around this joint. And instead, what presents audiences as they walk into the Edinburgh Playhouse Theatre is a melancholy of monochrome, a soft tune humming in the background of an alleyway. But wait, the magic lurking behind Jon Bausor's set design is about to light this place up and throw one hell of a soiree: courtesy of Fat Sam.  
With the flip of a switch, this revived staging of Bugsy Malone springs into action – splurge guns blazing, pies freshly whipped. For years now, Fat Sam has ruled the seedy underbelly of the city by force (and custard pies). But that sort of firepower is for shmucks; a new man in town, Dandy Dan, comes armed with the latest in foamy firepower. Desperate, his customers dwindling, Fat Sam turns to former boxer Bugsy Malone for aid. Thing is, Bugsy's got his own set of problems; two dames. New girl Blousey, and former girlfriend Tallulah.
Alan Parker's gangster musical, based on his 1976 film, retains its childhood innocent take on the violence and crime of the prohibition era. A time when dreams shook, dollars few, and bullets flew. Noted for its mainly child cast, the musical places each of the leading roles in the hands of talented youths, from Amar Blackman's charming Bugsy, to Rayhaan Kufuor-Gray's pintsized Dandy Dan.
To pick apart the still-developing vocals of some of the younger cast is excessive. There are pitching and projection issues, but Paul Williams creates ensemble numbers where the older cast members can harmonise out strained voices. The ensemble dancers and vocalists make up Fat Sam's dancing girls and the mobster lackeys, seamlessly blending in and out of scenes, offering a more physical sense of pratfall comedy, and demonstrating the tightness of Drew McOnie's, magnificent choreography.
Bugsy Malone, for its shortcomings in the limitations of vocals and timing, makes up for these understandable concerns with a spectacular sense of staging, movement, and ambience. From pick-up to the finale, McOnie's choreography is the show's star aspect; Bad Guys being the first introduction to its creative and fluid tribute to the twenty's flapper craze, leading to one of the most energetic dance finales the Playhouse has seen for a while.
Bausor's once monochromatic alley transforms into a glitzy speakeasy with glittering bottles of all sorts, and the theatrical set dressings allow Charlie Burns to have an audience stealing a moment of comedy as he bemoans the lack of stagehands.
But where the Gents may be gifted with the more comedic elements of Parker's script and are cutting the finest of pinstripes - it is the Dames who take the spotlight in this glitzy bash. For their age, the control and presence Avive Williams and Taziva-Faye Katsande exude is exceptionally professional – the pair magnifying their roles to more nuanced levels of emotional prestige through their solos Ordinary Fool, and of course, My Name is Tallulah – the musical's signature number.
One shindig you'll kick yourself for missing. The production may have a few off notes and flubbed deliveries, but contains enough dedication and emerging talent that gripes can be overlooked when the outcome results in an enjoyable evening with plenty of attitude, moves, and enjoyment – capiche?
15th - 20th November, 7.00pm. Wednesday & Saturday matinee 2.00pm. Sunday matinee 1.00pm Ages 6+
Tickets from £13.00
Bugsy Malone Tickets | Edinburgh Playhouse in Edinburgh | ATG Tickets
Photo Credit: Pamela Raith