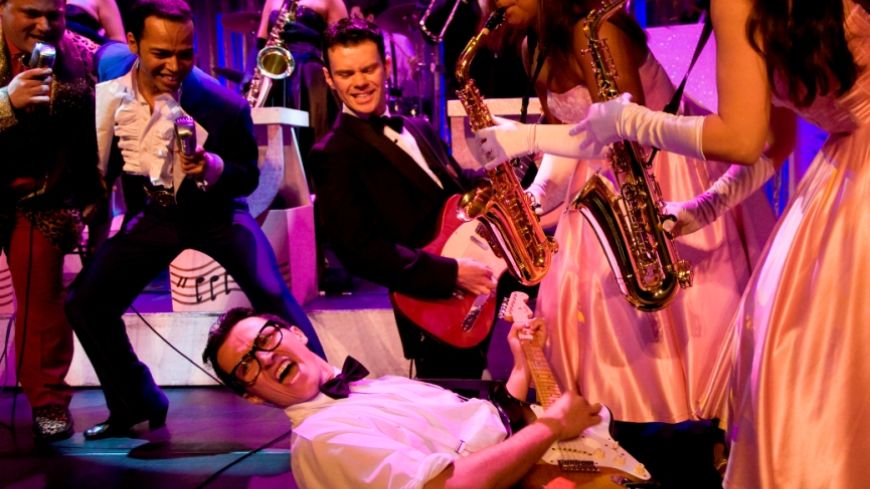 Company
Buddy Worldwide Ltd
Production
Alan Jones (writer and producer), Matt Salisbury (director), Adrian Rees (designer), John Banister (musical supervisor), Pete Cox (sound designer), Darren Coopland (lighting designer)
Performers
Glen Joseph (Buddy), Scott Haining (Joe B), Adam Flynn (Jerry), Shaun Hennessy (Hipockets), Peter Kenworthy (Norman), Jason Blackwater (The Big Bopper), Will Pearce (Ritchie Valens), Alex Marshall (Jack Daw), Vivienne Smith (Maria Elena), Sarah Mahony (Vi Petty), Lydia Fraser and Dion Laughton (Apollo Performer)
Buddy rides high on the crest of a giant nostalgia wave. Now in its 25th year, this highly successful show was the springboard for the juke-box musicals like Mamma Mia and We Will Rock You.
Starting in 1956 in Lubbock, Texas where Country music was king, Buddy takes us on a musical journey mapping Holly's rocket rise in the new world of rock 'n' roll.
From the hoedown hicks to tuxedoed and bow tied dudes, these Texas boys learn about the messy world of the music business but manage to create and perform an iconic catalogue of work that was to influence generations of musicians beyond Holly's own short lifespan.
The show climaxes with Holly's final concert at the Surf Ballroom in Clear Lake, Iowa, before his untimely death in 1959 in a plane crash with fellow performers The Big Bopper and Ritchie Valens.
Inevitably, this kind of show becomes a pastiche with stereotypes of multi underskirted skirts, turned up 501s, and satin clad glamour girls with push-up bras. Though painted with a light brush, and told through a bit of comedy and farce, some of the mores of time are reflected like a 1958 BBC referring to the UK as England during his tour with the Crickets and the racism in Harlem's Apollo.
Lydia Fraser brought tremendous sassiness to her role as the Apollo entertainer, and her rendition of Shout! with Dion Laughton was fantastic. Within this talented cast of actors who are also musicians, Jason Blackwater was the essence of cool as The Big Bopper, a precursor of Scotland's own Big Jazza from Tutti Frutti!.
Some of the sound is a bit harsh and fierce as The Crickets' distinctive rolling rhythm is replicated in this sing-along waiting to happen, but the poignant end of a solitary guitar on stage at the mic followed by the stonking finale said it all. This is a terrific reflection on a time when young men looked middle-aged with short haircuts and dinner suits yet managed to revolutionise the music scene for decades to come.
The show features the classic hits That'll Be The Day, Peggy Sue, Oh Boy, Rave On, Every Day, Not Fade Away, Words of Love, Think it Over, True Love Ways, Maybe Baby, Peggy Sue Got Married, Heartbeats, Raining in my Heart, It Doesn't Matter Anymore and Rave On as well as The Big Bopper's Chantilly Lace and Ritchie Valens' La Bamba.
It is hard to separate the enthusiasm this kind of show engenders through its strong fan-based audience and see it as anything other than what it is - good, old-fashioned entertainment.
Show times
Monday 10 to Saturday 15 February 2014
7.30pm
This silver anniversary tour continues in various English venues
www.buddythemusical.com
Read Gordon Clayton's review of Buddy: Buddy Holly Story, July 2011
Read Gordon Clayton's review of Buddy: Buddy Holly Story at Edinburgh Fringe, August 2009