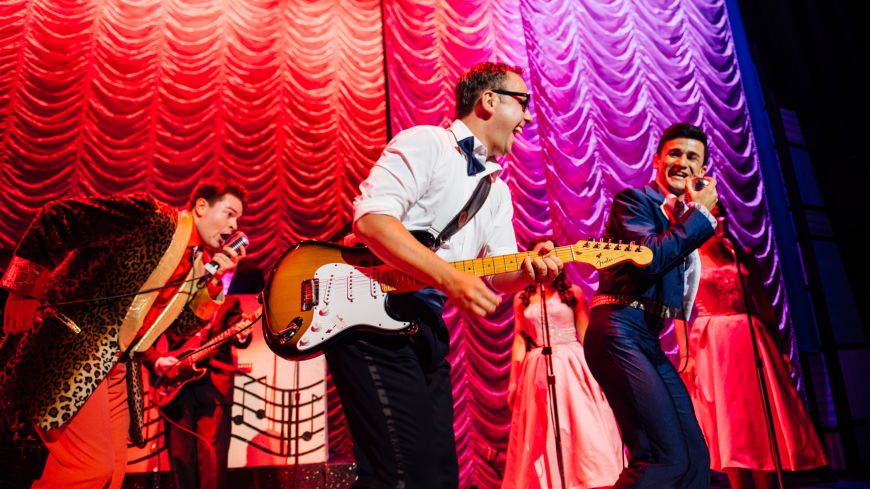 Production
Matt Salisbury (Director), Alan Janes (Writer and Producer), Adrian Rees (Designer), Miguel Angel (Choreographer), Pete Cox (Sound Designer), Darren Coopland (Lighting Designer)
Performers
Glen Joseph (Buddy Holly), Miguel Angel (Apollo Performer), Joe Butcher (Joe B. Maudlin), Celia Cruwys-Finnigan (Vi Petty), Jordan Cunningham (Ritchie Valens), Kerry Low (Maria Elena Holly), Josh Haberfield (Jerry Alison), Thomas Mitchells (The Big Bopper), Matthew Quinn (Hipockets Duncan), Tom Sowinski (Apollo DJ/Jackdaw), Alex Tosh (Norman Petty)
Seen by over 22 million people worldwide, Buddy – The Buddy Holly Story tells the true story of Buddy's meteoric rise to fame spanning an all too brief two years, from 1957 hit 'That'll Be the Day' hitting and thrilling the airwaves to his untimely death in a tragic plane crash.
Charting his stratospheric rise from adamant Texan parvenu to chart-topping legend amidst industry politics, friendships and romance, this jukebox musical features over 20 of Buddy Holly's greatest hits including 'Peggy Sue', 'Everyday', 'Oh Boy', 'Raining in my Heart' and 'Rave On'.
The peppy package is delivered by a stellar, multi-talented cast, comfortable in their characters' shoes with the majority having been involved in the show for some time, allowing an intimacy for the audience even in the Festival Theatre's large space and an attuned sound that had everyone at least toe-tapping, if not out of their seats with the rhythms.
At the helm is Glen Joseph who is utterly engaging and in fine voice while totally capturing Buddy's likeability, charm and psyche.
The incredible legacy of the young man with glasses lives on in this theatre concert, a heady reminder of the countless people he inspired to follow in his footsteps – Costello, Lennon, Cocker – which provides a nostalgic trip down memory lane for Buddy's generation, or a fast-paced, thrilling discovery of the early days of rock & roll for the next.
At Festival Theatre, Edinburgh until Sat 4 Mar.