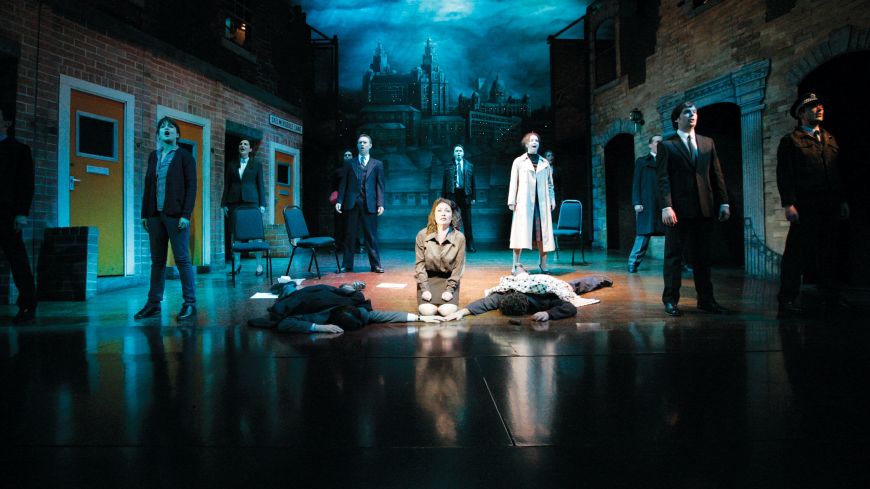 Company
Bill Kenwright, by arrangement with Bob Swash
Production
Bill Kenwright (director), Bob Tomson (director), Rob Edwards (Musical Supervisor)
Performers
Nikki Evans (Mrs Johnstone), Sean Jones (Mickey), Paul Davies (Eddie), Tracy Spencer (Mrs Lyons), Kelly-Anne Gower (Linda), Craig Price (narrator)
Silver Anniversary Tour, but gold star performances all round from the cast of 'Blood Brothers'.
The collaboration between Bill Kenwright as producer and director of this show goes back to 1986 when Bill added his touch to Willy Russell's music and lyrics to turn the story of twins separated at birth and brought up in different ways and circumstances into a musical that has gone world-wide and been translated into many languages.
The humour and backdrop is so rooted in Liverpool that you wonder how it does appeal to other cultures but basically it's about the haves and the have nots and which side of the tracks you are brought up on.
Blood Brothers is a different kind of musical; it has lots of humour even at things that are an ironical commentary on the differences of class, money, and education.
It has high drama and a great deal of pathos surrounding the central character Mrs Johnstone, single mother with a large family and a wee cleaning job to help make ends meets. She reluctantly parts with one twin to her childless but comfortably middle-class employer Mrs Lyons.
While Mrs Lyons tries to keep them apart in case Mrs Johnstone's maternal instincts betrays their secret, the plot is about how their lives develop and collide at various stages with ultimately tragic consequences
Nikki Evans follows in the footsteps of famous singers such as Helen Reddy, Petula Clark, various Nolan Sisters and our own Barbara Dickson as Mrs Johnstone.
 As is the case with a number of musicals her relative success on a TV reality show, in this case the X-factor, has turned her from a singer to fronting a West End show.
While initially uncertain about her singing voice in comparison to her predecessors (maybe down to the sound levels on the first night), she has acting skills and comic timing that were spot on and the singing got better and better, culminating in 'Tell me it's not true' that was powerful and full of emotion.
Sean Jones as Mickey the twin that stays with his birth mother is very inventive. While I have seen the moves before, he certainly gets the best out of the script.
His acting, firstly at play as a child, his shyness around girls, and the troubled adult he becomes through losing his job are all excellent performed and a highlight for the show.
Paul Davies as the 'posh' twin carries the part well through the ages and earned the goodwill of the audience in equal measures. Liverpudlian, Tracey Spencer plays the well-heeled but slightly deranged Mrs Lyons with conviction and without the obvious Scouse accent that others have to adopt and maintain.
Kelly-Anne Gower as Linda is the centre of attention from both brothers and again effectively moves from girl to precocious love-lorn teenager before falling into the same life pattern as her mother-in-law with some extra burdens of the next generation. Craig Price starts off as a fairly laid back narrator and then develops the harder edge and thunderous voice associated with the part.
The supporting cast are all good and fittingly they take their bows as a group.
'Blood Brothers' has had lasting appeal because times change but some things don't and this tale is relevant in Liverpool to-day as it was in the late 70's and early 80's when first conceived.
The music is great, the lyrics clever and the ever changing versions of Marilyn Monroe is welcomed like an old friend.
It's a show not to miss if you have never seen it before and for those who have seen it in the past then there are little nuances to saviour.
Runs to Saturday 19th March, 7.30pm and Sat. Matinee 2.30pm