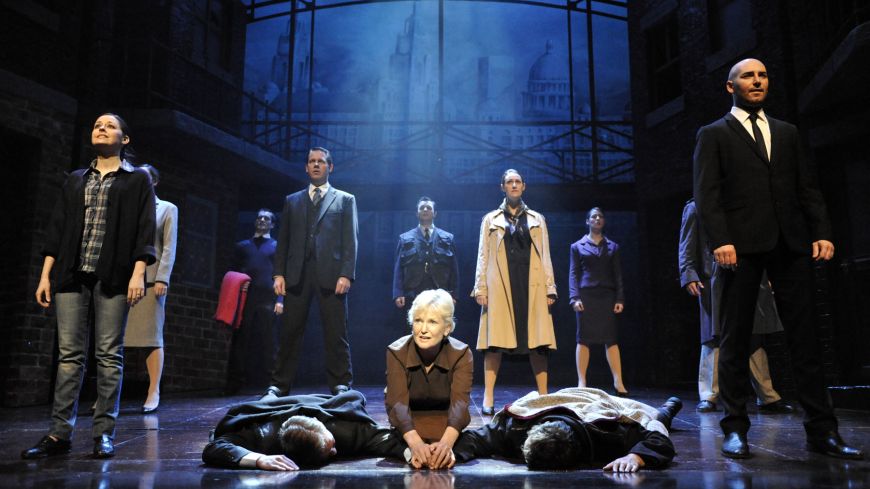 Production
Willy Russell (book, music & lyrics), Bill Kenwright & Bob Tomson (directors), Alan Walmsley (designer), Nick Richings (lighting), dan Samson (sound), Tom De Keyser (musical supervisor).
Performers
Lyn Paul (Mrs. Johnstone), Kristofer Harding (Narrator), Sean Jones (Mickey), Joel Benedict (Eddie), Paula Tappenden (Mrs. Lyons), Danielle Corlass (Linda), Peter Washington (Sammy).
More than thirty years has passed since Willy Russell's Blood Brothers won the Olivier Award for Best New Musical – and it's still packing a punch.
There's nostalgia in the air as the overture begins and the backdrop of the Royal Liver Building, the iconic symbol of Liverpool, appears through the gloom. We're back to the days of dole queues, reminded of Bleasdale's Boys From The Blackstuff and another era of recession, when the anger and despair of the have-nots culminated in the Toxteth Riots. Times are tough, and they're about to get a whole lot tougher.
Mrs. Johnstone has a house full of kids and another one on the way. Hubby ups and leaves and the bailiffs take everything but the kitchen sink. She hopes her little cleaning job will be enough to keep the wolf from the door, but on discovering she's expecting two kids, not one, she is manipulated into handing one of them over to her posh employer Mrs. Lyons. From here, the plot wends its way towards its inevitable tragic conclusion, driven by an ever-present portent of doom.
Not the cheeriest of scenarios for a musical, yet there is humour – scouse-style – all the way. A bit slow to begin with, while the seeds of destruction are being sown, it only really gets going when we meet the twins and watch them play out their fateful destiny. Joel Benedict as the posh twin Eddie, Danielle Corlass as Linda, Kristofer Harding as the Narrator and Lyn Paul as Mrs. Johnstone, all play their part in making this production a success. But it's Sean Jones as Mickey, the twin who gets to keep his birth mother but loses everything else, who plays the transition from exuberant, mucky kid to desperate, deranged young man, old beyond his years, with a style and conviction that sets him apart from the rest.
It's difficult not to think that the show's success is in no small part due to the impact of the final number. This show, more than most, builds by inches to a climax, and as the cast congregate to howl out 'Tell Me It's Not True' in unison, tears are streaming down some faces in the audience as they rise to their feet to show their appreciation. That really says it all.
Runs 8th – 13th February 2016