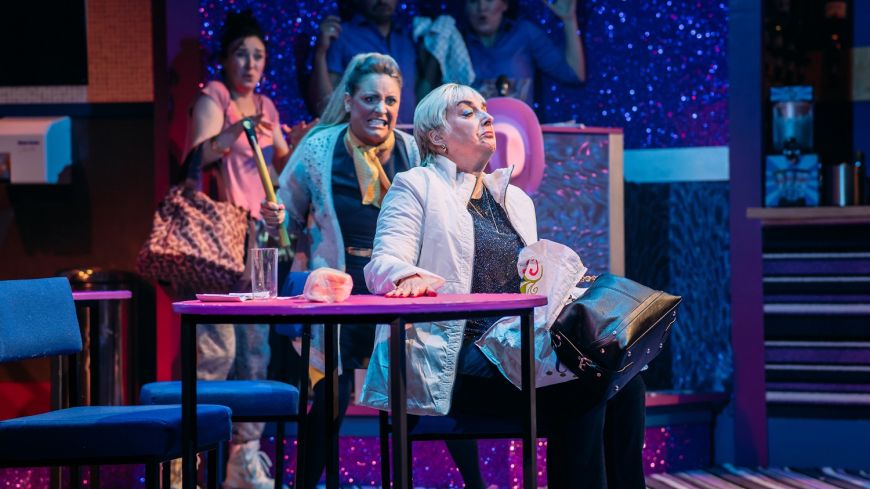 Company
Grid Iron and Stellar Quines
Production
Anita Vettesse & Johnny McKnight (co-writers), Alan Penman (composer and musical director), Jemima Levick (director), Derragh O'Leary (choreographer), Kate Bonney (lighting design), James Blake (film), Carys Hobbs and Becky Minto (set design)
Performers
Louise McCarthy(Daniella), Wendy Seager (Mary), Barbara Rafferty (Joanna), Jo Freer (Ruth), Darren Brownlie (Donny), Jane McCarry (Betty)
It's eyes down and look in as two of Scotland's renowned theatre companies, Grid Iron and Stellar Quines, have teamed up to create a brand- new comedy musical set in a bingo hall.
As the puggy lights flash against the club's garish pink glitter walls, its regulars start to assemble for bingo night. There's single, thirty something travel agent Daniella (Louise McCarthy) who still lives with her hard faced and hard -hearted, double dobbing (two bingo cards at a time) Mum, Mary (Wendy Seager) and there's the milk expressing new mother Ruth (Jo Freer) giving baby care instructions over the phone to her daft man Davey. The club's staff, Donny (Darren Brownlie), the dodgy goods dealer who feels invisible to the women despite being off the scale camp and his pal and subdued bride to be and Bingo Caller, Betty (Jane McCarry), set up the bar.
This gang of pals is gearing up for Betty's Las Vegas hen night that promises to end all hen nights where every penny that can be gathered before they go will be needed for their pink Stetsoned spree. Washing up among and welcomed by this crew is Joanna (Barbara Rafferty), a daundered old lady who has finally substituted a controlling husband with her reliable wee Henry the Hoover.
Each of these characters trails their own personal drama like silent chains, but when the 'really bad thing' Daniella has done, that is etched on the superb Louise McCarthy's face from the start, is revealed, a real and serious drama erupts.
Old resentments rise to the surface like curdled milk, producing crazy cartoonish reactions in this heightened comedy showing the extreme results of someone who is pushed to the edge and the raw result of catalogues of fibs, fabrications and betrayal, as each has to confront and deal with realisations and regrets.
Some of the dialogue tips into the didactic when explaining the problems of being in a quagmire of poverty and debt, but whether you cross your fingers or make the sign of the cross, everyone here is desperate enough to appeal to their particular deity to get the chance of change. For them bingo is that chance.
The script, that's written with an incisor sharp pen dipped in outrageous ink, should take a leaf from Muriel Spark who aimed to 'make them laugh and keep it short'. There are gaps that could be condensed in this over long show but despite this flaw, the outstanding stalwart Scottish cast carries it through with tremendous passion and honesty.
Why should so called high culture have the monopoly on crazy plots and ludicrous situations? This hilarious and unsentimental look at a slice of working class life has comedy and tragedy in spades dotted throughout with some side splitting non- sequiturs and lots of Scottish in jokes from the dream writing team of Vettesse and McKnight. Best of all, there is hope and redemption among these women (and Donny) when the chips are down so it is completely fitting that this show, that celebrates female friendships and relationships warts and all, opened on International Women's Day.
With songs and some hot disco music from Alan Penman in the form of their very own Viva Las Vegas and a heart -felt anthem entitled F***off and Die (not one you'll hear every day), as well as a programme brilliantly designed to look like a bingo card, Bingo! provides an all- round terrific night out that deserves a full house every night.
8-17 March 7.30pm (not Sunday 11th), 10 & 17 March 2.30pm (matinees)
Tour continues as follows:
Macrobert Arts Centre, Stirling: 22-23 March 7.30pm, 23 March 2.30pm (matinee)
Ayr Gaiety Theatre, Ayr: 27-28 March 7.30pm
The Brunton, Musselburgh: 31 March at 2pm and 7.30pm
Tron Theatre, Glasgow: 12-14 April at 7.45pm
Eden Court, Inverness: 19-21 April 7.30pm, 21 April 2.30pm (matinee)