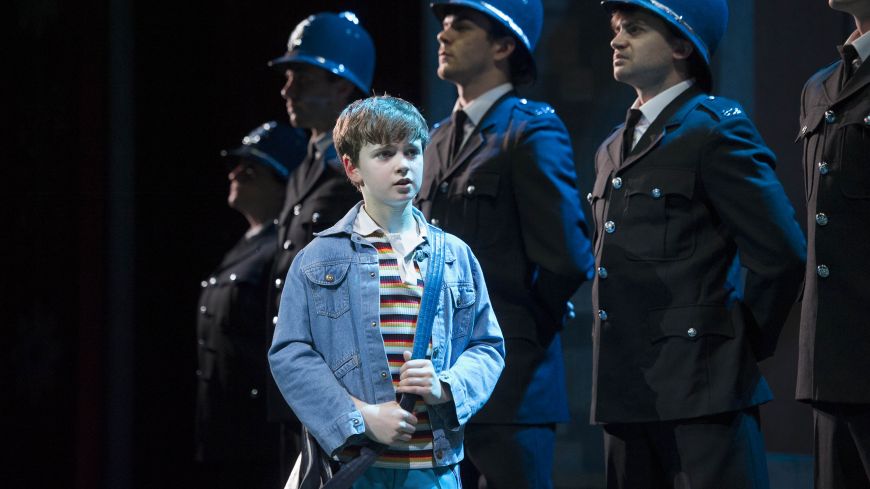 Company
Universal Stage Productions, Working Title Films and Old Vic Productions
Production
Elton John (music), Lee Hall (book and lyrics), Stephen Daldry (director), Peter Darling (choreogaphy), Ian MacNeil (set designer), Nicky Gillibrand (costume designer), Rick Fisher (lighting designer), Paul Arditti (sound designer).
Performers
Lewis Smallman (Billy), Annette McLaughlin (Mrs. Wilkinson), Martin Walsh (dad), Scott Garnham (Tony), Andrea Miller (grandma), Leo Atkin (George), Daniel Page (Mr. Braithwaite), Nikki Gerrard (dead mum), Luke Cinque-White (Billy's older self).
Billy stomps up the steps from the auditorium and onto the stage, as Thatcher's sultry tones pour from his portable radio announcing plans to close down 20 coal pits. It's 1984, the Miners' Strike and its attendant poverty and hardship is imminent and emotions are running high.
Billy is just 12 years old and still reeling from the death of his mother 2 years ago. His dad and brother are North East mining men, and with gran hiding sausage rolls on the landing and mostly lost in her own world, Billy is in dire need of some care and attention.
It's lucky, then, that one evening after an unenthusiastic boxing session at the local community centre, he unwittingly finds himself in Mrs. Wilkinson's ballet class. She slowly discovers that he is gifted, and he finds that in dancing he can lose himself, feel free, and exhilarated, all at the same time. Together they build a dream of getting him a place at The Royal Ballet School and, as incongruous and unlikely as it seems, they work towards making this dream come true.
This is a musical packed with both humour and pathos. The clash of cultures represented by the opposing worlds of ballet and coal mining is echoed and aggressively demonstrated in the scenes of violent clashes between pickets and police. Male stereotypes are challenged – not just through Billy and his ballet but also through his mate Michael's preponderance for dressing in a dress, just like his dad. And it's a positive testament to just how far views on such things have shifted in the last 30 years, that the shock value lies not in the nature of the boys' desires, but in this show's somewhat questionable taste that presents them sympathetically, while still encouraging a fair amount of laughter and sniggering.
That said, this is a roller-coaster ride that takes in some genuine comedic highs and some heart-wrenching lows, veering off here and there into hard-hitting territory too. But what really makes Billy Elliot The Musical a great evening's entertainment is the dancing from the boy at the centre of it all. On Wednesday evening, Lewis Smallman as Billy performed some knock-out routines of ballet and tap dancing – the applause and screeching after one particular terrific number went on for so long that it brought the show to a standstill.
The dialogue is peppered throughout with some pretty strong language which is all normal and natural within the contest of the show but may concern those with young children. Otherwise it's an opportunity for a great family night out.
Runs 20th Sept – 16th Oct