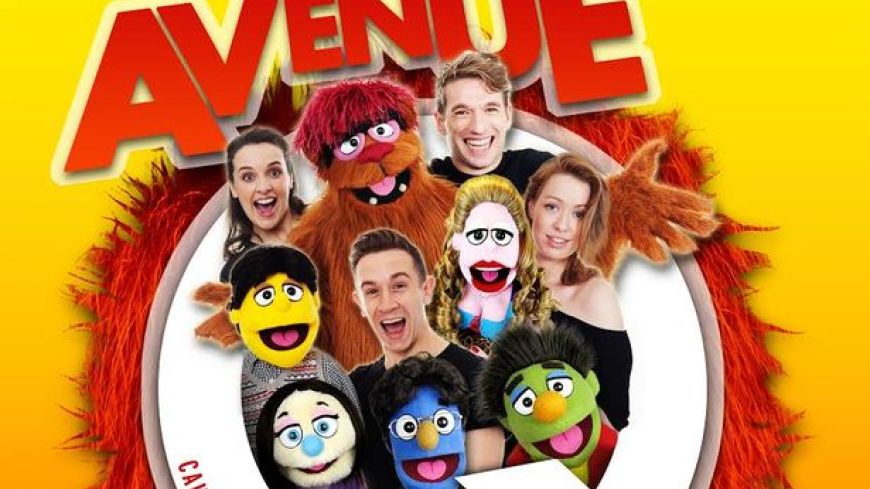 Company
Sell A Door Theatre Company
Production
Cressida Carre (Director/ Choreographer), Max Reynolds (Associate Director), Dean McDermott (Musical Director), Richard Evans (Designer), Charlie Morgan Jones (Lighting Designer), Paul Jomain (Puppet Designer), Nigel Plaskitt (Puppet Coach)
Performers
Stephen Arden (Nicky/Trekki Monster/Bad Idea Bear), Sarah Harlington (Kate Monster/ Lucy the Slut), Arini Il (Christmas Eve), Richard Lowe (Princeton/ Rod), Richard Morse (Brian), Jessica Parker (Mrs T/ Bad Idea Bear/ Second arm), Etisyai Philp (Gary Coleman)
What do you get when you put the educational premise and puppetry style of Sesame Street, a cynical yet insightful depiction of humanity and an ear-worming soundtrack onto the same stage? A show which will have you raucously howling with laughter as your biggest flaws are portrayed by lyrically laden puppets and their human co-stars.
Returning for its second appearance at Edinburgh's King's Theatre, Sell A Door's production of Robert Lopez and Jeff Marx Avenue Q follows the post-graduation period of purpose hungry Princeton's life and his move to the eclectically populated street. He and his neighbours fall in love, out of friendship and land far from where society expects them to be at their age. With only a BA in English under his belt, Princeton can't seem to find his reason for living and his newfound friends don't appear to be much help.
Humourlessly tackling closeted homosexuality, endearingly validating racism and explicitly illustrating sexual intercourse, this show tackles taboos shamelessly whilst providing audiences with resonating characters.
If the quick fire comedy and relatable first world problems aren't enough to stun you into hysteria, the vocal performances of the lead puppeteers will certainly leave you amazed.
Sarah Harlington's ability to fleet between the opposing female leads, love struck Kate Monster and the provocateur Lucy the Slut, knows no bounds as she often conducts seamless conversations between the pair. The familiar sounds of seasoned Qer, Stephen Arden, voice the pornography obsessed Trekkie Monster and doting flatmate Nicky with commendable comic timing. Also fulfilling half of the Bad Idea Bear duo, Arden's droll performance is supported by his fluffy partner in crime Jessica Parker.
Do not be fooled by the furry frontier of this flaunt, as it is not a family friendly feat. With grown up problems, scenes and songs of an adult nature, and inherent skill oozing from every human and puppet orifice, Lopez and Marx musical masterpiece is definitely not for little monsters.
King's Theatre, Edinburgh until Saturday 14 May
7.30pm (Saturday Matinee 2.30pm)
Tickets from: www.edtheatres.com