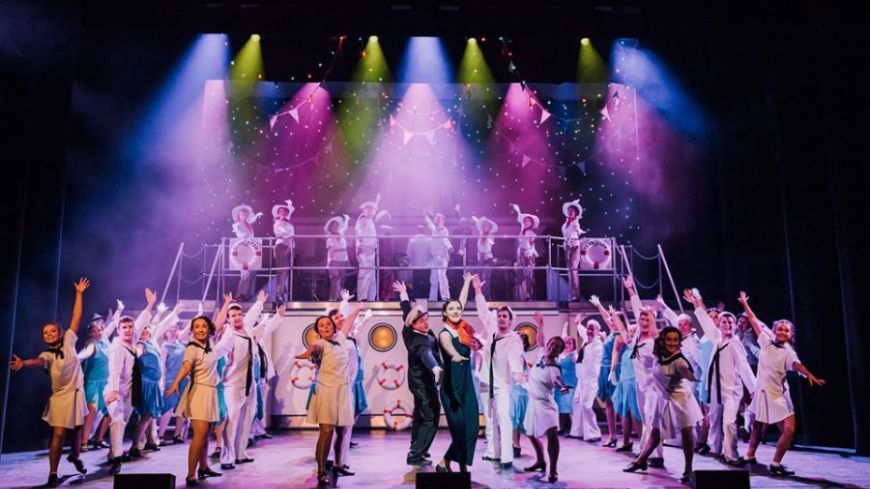 Company
The Southern Light Opera Company (by arrangement with Concord Theatricals Ltd on behalf of Tams-Witmark LLC).
Production
Cole Porter (music and lyrics), P.G Woodhouse & Guy Bolton and Howard Lindsay & Russel Crouse (original book), Timothy Crouse & John Weidman (new book), Andy Johnston (producer), Crawford Moyes (musical director), Louise Williamson (choreographer), Louise Hunter (assistant director), Andrew Thomson (assistant musical director), James Gow (lighting designer), Paul Smith (sound designer).
Performers
Toni MacFarlane (Reno Sweeney), Matt McDonagh (Billy Crocker), Rebekah Lansley (Hope Harcourt), Peter Tomassi (Moonface Martin), Kerr-Alexander Syme (Lord Evelyn Oakleigh), Tanya Williamson (Erma), Dorothy Johnstone (Evangeline (Harcourt), John Bruce (Elisha J Witney), Charles Leeson-Payne (Captain), Steven Boyd (Purser), Jonny Tait (Fred), Judith Walker (reporter), Craig Young (photographer), John Whelan (Henry T Dobson), Padraic Hamrogue (Luke), Ross Young (John), Cameron and Keith Kilgore (FBI agents), Katie Becher, Eilidh Campbell, Aoife Cook, Nicola Dryburgh, Joanne Robertson, Mhairi Summers (Reno's Angels), Cameron Kilgore, Keith Kilgore, Andrew Williamson, Craig Young (sailor quartet), Ensemble and Orchestra.
"There's no cure like travel, to help you unravel the worries of living today. When the poor brain is cracking, there's nothing like packing a suitcase and sailing away". Cole Porter.
Planning just such a transatlantic getaway are a motley band of passengers, each with a reason to escape on the SS American.
In Cole's Bar in Manhattan Elisha J Witney is making last minute arrangements, issuing orders to Billy, his broken-down broker assistant, leaving him with some insider dealing and the job of delivering his forgotten passport to the ship. 
A simple job for Billy; what could possibly go wrong?  Well gangsters, stowaways, love triangles, disguises and mistaken identity, a blackmail plot, rumours of icebergs, secrets and some very tricky decisions.  All aboard!
Billy has gone overboard for young debutante Hope Harcourt and, while he thinks she is hopelessly out of his league, when he spots her on deck he just can't jump ship.  Hope is travelling with her mother, who is seeking better financial prospects by marrying her off to Lord Evelyn Oakleigh. 
Their Depression Era fellow travellers are hoping for some big celebs to lift their spirits, but with no big names, it's down to nightclub singer Reno and her band of Angels to set the mood. There is also frisson at the rumour of "Snake Eyes Johnson", public enemy number one being onboard, although in reality Moonface Martin is a third-rate gangster (rated at No. 13).
These disparate characters soon find themselves all at sea in a madcap, farcical romantic comedy.
First brought to the stage in 1934, like most musicals of the time the characters are fairly two dimensional and the plot well worn, but the music is timeless, bringing us the classic numbers "I Get a Kick Out of You", "You're the Top," and, of course "Anything Goes".
Vocal performances are strong throughout. Toni MacFarlane in commanding form as Reno and the others step up to the helm when allowed; Tanya Williamson unleashing Erma's full Marilyn Munroe as moll and ship's siren; Kerr-Alexander Syme having great fun releasing the inner gypsy from his bumblingly charming Lordship and Peter Tomassi bringing Marx Brothers levels of silliness.
Dance is also a major part.  There are some early nerves, a turn to starboard instead of port and some awkward lifts, but it's ambitious and the big stage filling numbers dazzle. The production's energy is a little choppy and there could be more spark between Billy and Hope but there is plenty which is delightful and de-lovely.
Great escapism from the worries of living today.
Show times: 3rd to 7th March 2020 at 7.30pm.  Matinee Saturday at 2.30pm.
Tickets: £17 - £23.50.
Accessibility: Audio description and touch tours 7th March.