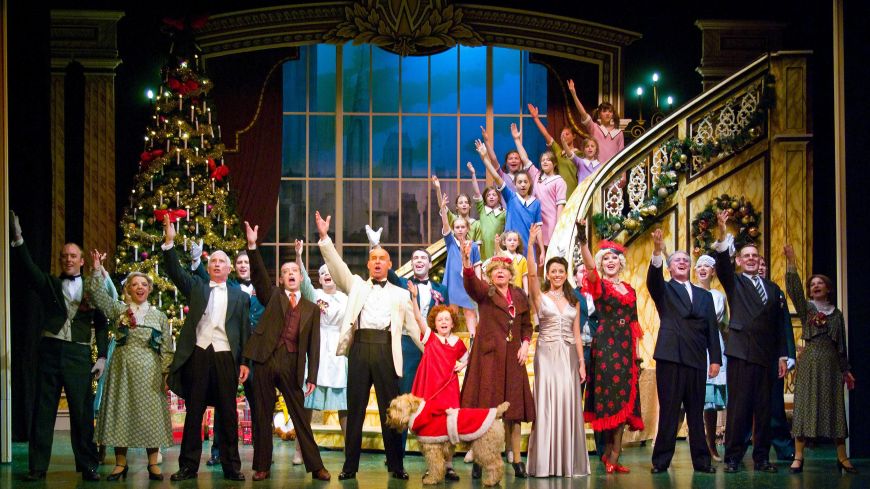 Production
Roger Hannah (Director and Choreograher), Mark Crossland (Musical Supervision), James Dunsmore (Musical Director)
Performers
Victoria Sian Lewis (Annie), David McAlister (Oliver Warbucks), Su pollard (Miss Hannigan), Simone Craddock (Grace Farrell), Philip Andrew (Rooster), Sophie McEwan (Lily)
While 'Little Orphan Annie' was created by Harold Walker in the form of a comic strip that had a long run in the 1920's, it took another half century for it to reach the Broadway stage. The film version is rolled out almost every holiday but this repetition should not detract from the memorable songs and a plot that hovers between the plight of orphans, other social comment and pure musical theatre.
Annie, played by an exceedingly poised and accomplished Victoria Sian Lewis, takes the rags to riches journey, managing to sidestep the criminal intent of the brother of Miss Hannigan, Officer in charge of the orphanage.
Miss Hannigan (Sue Pollard) gets through the day seeking comfort in liquor and harassing male visitors. This part is mainly played for laughs as you would expect from Sue Pollard, but has a great point number in "Little Girls". Just like the orphans she is also looking for a route to a better life ("Easy Street").
The stage version of 'Annie' is set in the depression of the 1930's and the opening songs ("It's A Hard Knock Life") and ("We'd Like To Thank You") capture the times.
Things take a turn for the better when Annie escapes to seek out her real parents and picks up a very obedient canine companion along the way, but she is caught by NYPD and returned to the home when she is just in time to be chosen by Grace Farrell (Simone Craddock) as the child to spend Christmas with a billionaire ("I Think I'm Going To Like It Here"). Despite billionaire Oliver Warbucks (played by an excellent David McAlister) wanting a boy, he is won over by the feisty girl and takes Annie and the audience to a tour of the Big Apple.
Annie charms everybody including the President of the USA and his cabinet and sets them on the path of Roosevelt's New Deal ("To-morrow"). Well, it is musical theatre!
Annie's desire to find her parents dominates the storyline which includes great numbers ("You're Never Fully Dressed Without A Smile") which is reprised by the talented ensemble of orphans. Rooster, (Miss Hannibal's brother) and his moll Lily St. Regis are very effective as the con artists
While the principals are crucial to every show sometimes the quality of the supporting cast illustrates the standard of production and there is a lot of stagecraft and choreography to admire.
Drake played by Ashley Knight is a good example of this contributing to the humour of the show. The sets are bright with the Christmas tree and grand staircase the pick of the bunch.
Does it have a happy ending? No prizes for guessing correctly.
Show Times
Annie runs to Saturday, 12 February, 7.30pm, with Saturday matinee 2.30pm.