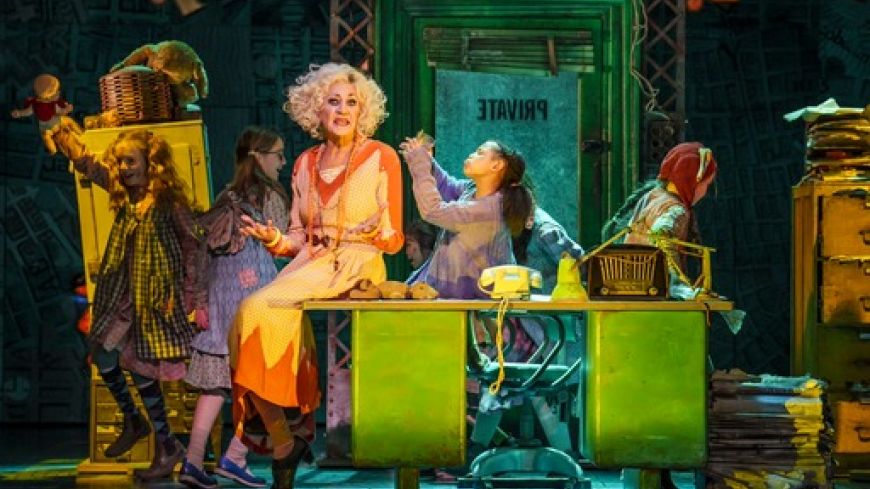 Production
Thomas Meehan (Book), Charles Strouse (Music), Martin Charnin (Lyrics), Nikolai Foster (Director), Colin Richmond (Set & Costume Design), Nick Winston (Choreographer), George Dyer (Musical Supervisor), Ben Cracknell (Lighting Design), Richard Brooker (Sound Design).
Performers
Harlie Barthram (Annie), Paul O'Grady (Miss Hannigan), David Burrows (Oliver Warbucks), Amelia Adams (Grace Farrell), Paul French (Rooster), Billie-Kae (Lily), Lukin Simmonds (Lt. Ward & Franklin Roosevelt), Matthew Sweet (Bundles & Ikes), Chloe Angiama (Molly).
Escapism. It's what theatre, and indeed musicals, are all about. So who would have thought that a Broadway musical first performed in 1977, based on a 1920s comic strip of political commentary on the economic turmoil of The Great Depression, and often noted for its saccharine sweet story set to cheesy compositions, would still be the escapism we all need as the cost-of-living crisis continues which strikes more than a chord with Annie's underlying hope of a brighter future. 
Colin Richmond's jigsaw map set of New York envelops you in its world as we seamlessly transition from scene to scene, meeting Annie (Harlie Barthram) and the orphans who are worked to the bone, underfed and fed up with their lot under the rule of the abusive and always inebriated matron Miss Hannigan (Paul O'Grady). After an unsuccessful attempt to run away and find her folks (cue show stealing dog scenes), Annie charms Grace Farrell (a delightful Amelia Adams), who happens to be billionaire Oliver Warbucks' personal assistant, requesting an orphan to stay at his mansion for the Christmas holidays. Oh boy! 
While Annie lives the highlife, learns more about the world she's living in and bonds with the billionaire, Miss Hannigan's envy grows, so when her criminal brother Rooster (Paul French) shows up with his latest lush Lily (Billie-Kae) and they hatch a plan to swindle Warbucks at Annie's expense, the happy new life of the gritty but cheerfully hopeful protagonist is in peril. Leapin' Lizards!  
Innocence in a corrupt world is the heart of this show, and it delivers this message unapologetically and with aplomb as a strong cast, both leads and ensemble, shine in all scenes. If you only know the 1982 film (or, heaven forbid the 2014 remake) it's worth noting the stage show differs from its silver screen counterpart considerably, with more songs to showcase and add narrative, especially for Daddy  Warbucks who is played with awkward warmth by solid understudy David Burrows. Many may prejudge this show as corny sentimental mush, showcased in numbers like the wistful 'Maybe' and famed 'Tomorrow' but from the stripped back solos to the all encompassing spectacle of full company numbers it delivers. 
Some audience may be lured along to see Paul O'Grady as the drunk, lascivious orphanage owner who is having a ball, effortlessly interacting with the orphans and shimmying through several highlight musical numbers - 'Easy Street' is a stand out, with a mention to Paul French's Rooster in fine voice and villain mode partnered perfectly by Billie-Kae's sultry Lily. There is an affecting New York twang that's definitely not left Scouseland… but we'll blame that on the gin and O'Grady received a warm and well deserved standing ovation at curtain call. 
The unattainable is escape. And the crowd on opening night in Edinburgh were happy to escape their lives for a little happily ever after safety, where bad is bad and good is good and right always wins. Harlie Barthram is at ease in the titular role, in fine voice and showcasing a range of emotions to help us stretch our minds to believe a child's steely determination and stoical optimism inspired a room of presidential aides, and the President himself! 
So, leave pessimism at the door and go get a big dose of doe-eyed, big smiled joy as you toe tap to timeless tunes and convince yourself that tomorrow is always a day away. 
Annie is at Edinburgh Playhouse until Saturday 25th March. 
© Lindsay Corr, March 2023