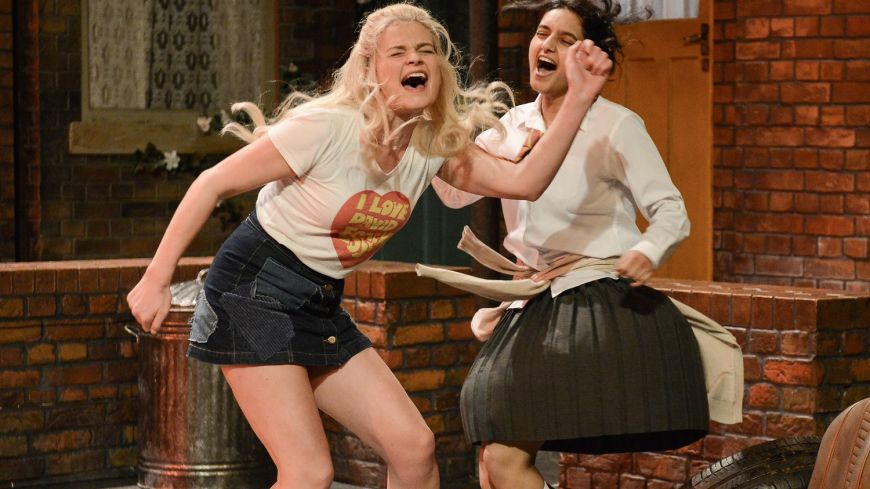 Company
Touring Consortium Theatre Company, Birmingham Rep
Production
Roxana Silbert (Director) Daniel Bailey (Associate Director) Bob Bailey (Set and Costume Design) Chihine Yavroyan (Lighting Designer) Tarek Merchant (Musical Director) Sara Green (Movement Director) Edda Sharpe (Voice and Dialect Coach)
Performers
Laura Aramayo, Sam Cole, Therese Collins, Rina Fatania, Shobna Gulati, Rebekah Hinds, Sejal Keshwala, Megan McCormick, Robert Mountford, Tom Oakley, Humera Syed, Aasiya Shah, Aaron Virdee, Claire Worboys, Ellen Aitken, Adam Butler, Mean Fraser, Anisah Rasul, Malachi Reid, Cerin Richardson, Suzanne Senior
Meera Syal's semi-autobiographical tale, first published as a novel in 1996, lands squarely on the King's stage this March with a thump of west country vowels.
Syal grew up in a mining village outside Wolverhampton, and the setting for Anita and Me is a similar one. Twelve year old Meena (the Me of the title) and her family are the only Asian family in their neighbourhood in the 1970s, in the fictional village of Tollington. The West Midlands are very different from the family's native India, and although they are settled when the story starts, the play unfolds the difficulties of being outsiders.
It is essentially a coming-of-age story for Meena. When she meets Anita, her neighbour, they become best friends but unfortunately their cultures (or lack thereof) clash. As an upcoming teen, Meena harbours a rebellious streak and finds the community of her Indian family stifling, wheras Anita, who is neglected but fiercely defensive about it, harbours all the glamour and popularity that teenagers aspire to. As Meena's family grows and Anita's shrinks, Meena discovers what things hold value for her and who is really worth her time and attention.
This is a big production with a large supporting cast, and although occasionally the stage seems a little too small for them all, this does give the sense of community which is important for the story.
Tankia Gupta's adaptation is a play with songs and this translates well with the scale of the production and the vibrancy of Meena's family and friends, and with the fairly innocent character of Meena herself, played buoyantly by Aasiya Shah. Shobna Gulati and Robert Mountford are an asset to the show with grounded performances as Meena's steadfast parents.
Rina Fatania gives an irresistible performance as Nanima, with a kind of deadpan mischief which steals a few of the scenes.
By the end there is not as much closure as you may expect, particularly in terms of the relationship between the two eponymous characters after the inevitable head to head. It is the epitome of a coming-of-age tale with enough real life for the audience to find something of themselves on stage, and it will continue to appeal to audiences for years to come.
Running until 1st April, 7.30pm (matinees 2.30pm).
Tickets: £17-£30.50