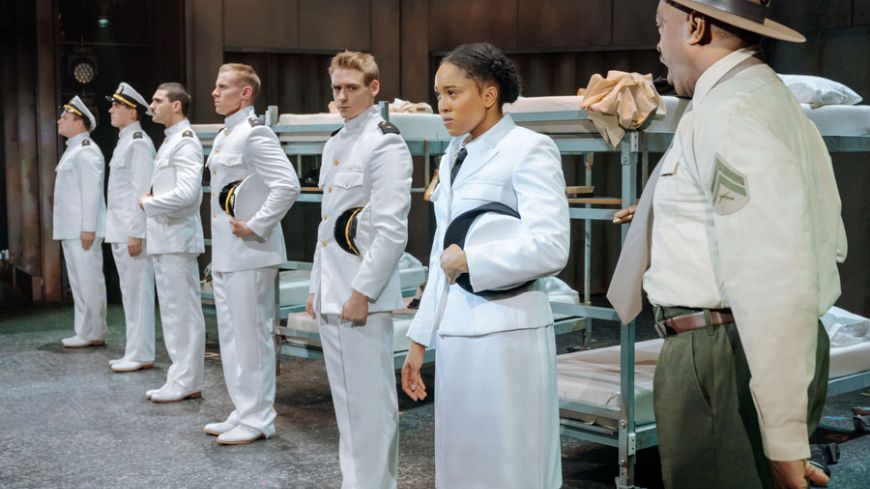 Production
Nikolai Foster (Director) Kate Prince (Choreographer) Sarah Travis (Musical Supervisor) Michael Taylor (Set and Costume Design) Ben Cracknell (Lighting Design) Tom Marshall (Sound Design) Douglas O'Connell (Video Design) George Dyer (Orchestrator and Arranger)
Performers
Jonny Fines (Zach Mayo) Emma Williams (Paula Pokrifki) Ian McIntosh (Sid Worley) Jessica Daley (Lynette Pomeroy) Ray Shell (Emil Foley) Keisha Atwell (Casey Seegar) Andy Barke (Louis Perryman) Maisey Bawden (June Perryman) Darren Bennet (Byron Mayo) David Burrows (Simpson and Joe) James Darch (Troy) Vanessa Fisher (Sandra) Aimee Hodnett (Sophia) George Ioannides (Eduardo Cortez) Nathanael Landskroner (Craig) Joe Maxwell (Fin Hooper) Keiran McGinn (Jacobson) Corinna Powlesland (Aunt Bunny) Rachel Stanley (Esther Pokrifki) Rhys Whitfield (Vernon) Michael James Stewart (Swing and Dance Captain)
Finding it's balance in the wake of the 1982 film, a brand new version of An Officer and a Gentleman sweeps onto the Playhouse stage and makes our heat wave even hotter.
When Zach Mayo (Jonny Fines) signs up for the U.S Navy Aviation Academy, his attitude gets in his way. Over the course of the 12 week training programme and under strict guidance of Sergeant Foley (Ray Shell) Zack begins to show promise. But it isn't long before Zach and Sid Worley (Ian McIntosh) are introduced to local girls Paula Pokrifki (Emma Williams) and Lynette Pomeroy (Jessica Daley), and young love throws everything onto a different plane.
This new version of An Officer and a Gentleman is a jukebox musical that follows the film almost exactly, even down to the details of the costume. It is a wonderful story that throws together moments of absolute joy with absolute devastation, all framed by the exquisite design from Michael Taylor. The set is sparse and hard; concrete and steel and wire fences that reach up into the heights of the stage. The centre piece, a huge metal stairwell, throws the action onto every level and creates a hefty metaphor for the highs and lows every character faces during the two hour plus performance. The look of the show is modern and elegant, hard and sexy. It is such a shame that soundtrack dates it so much.
If you go to relive the 80s, the music does that. There is potential for more than that though, as is clear by the design, and it's juxtaposed with the upbeat cheese of the pop music in act one. As a jukebox musical the songs are not bad choices, but it could be stronger as a whole with an original soundtrack. Saying that, the cast are a force to be reckoned with and give the best possible premier for a new musical.
Although act one felt at times a little disjointed by clichés, the show as a whole is pretty sensational. This cast are absolutely world class - Jonny Fines' Zach would, dare I say it, give Mr Gere a run for his money. Fines and Williams are perfect as Zach and Paula, with a feisty Williams giving an incredible vocal performance of 'Alone' halfway through act two. All the vocals are spot on with several powerhouse solos and some heart-breaking and heart-warming performances from Ian McIntosh as Sid Worley and Keisha Atwell as Casey Seegar. It isn't quite perfect, but it's close enough.
2nd-7th July, Edinburgh Playhouse. Evenings 7.30pm, matinees 2.30pm.