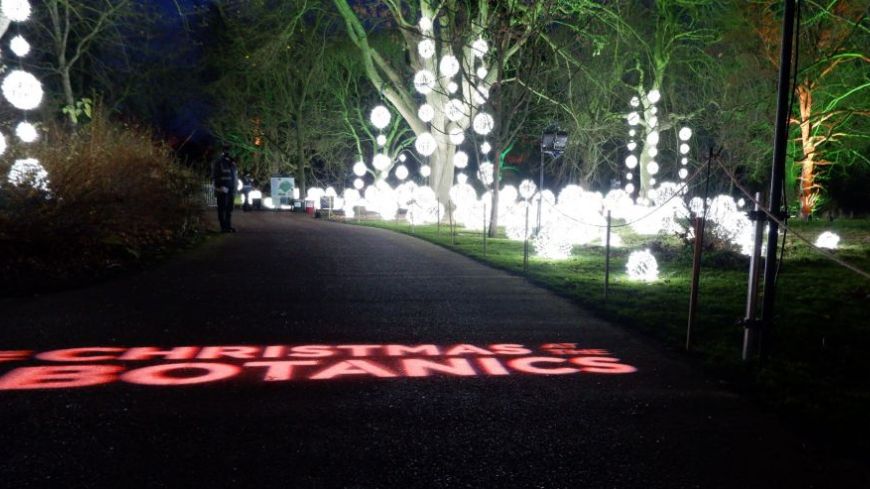 Company
Royal Botanic Garden Edinburgh
Production
'Christmas at the Botanics' is produced by events promoter Raymond Gubbay Limited a division of Sony Music, in partnership with the RGBE and Culture Creative, in collaboration with Mandylights, Lightworks, ArtAV, Liverpool Lantern Company.
After enticing 76,000 visitors in 2019, "Christmas in the Botanics" is back again, transforming the garden at night into a winter wonderland.  With the pantomime season sadly cancelled for 2020, this outdoor entertainment offers a magical treat for all the family.
Through the West Gate, a choral rendition of Joy to the World will put you in festive mood as you stroll past a meadow of giant snowballs like sparkling Christmas Tree baubles.  
One of the highlights is the 'Laser Garden', a thick beam of green, glittering fairy lights, while a mist swirls around the trees creating a spooky woodland atmosphere. Kids will love to try to catch hold of these Tinkerbelle fairies, as they dance and sparkle along the path.  This is a magical, theatrical moment and I really felt like a child again. 
The beautifully lit, tumbling waterfall at the Rock Garden, 'painted' in soft shades of green and purple, with waterlilies n the pond, it's like a Monet landscape come to life. 
Along the trail, a crystal, be-jewelled Christmas Tree, 'Starfield' featuring twenty twinkling stars, and 'Constellations', with shapely sculptures of Orion, Little Bear et al.  Warm up in the 'Fire Garden', ablaze with lanterns and flaming torches, while you sing along to Silent Night. 
Around the illuminated garden, the air is filled with the familiar classics -  Chris Rea, Driving home for Christmas, Kylie's, It's the Most Wonderful Time, and Last Christmas from Wham  Listening to the sharp, clear quality of the soundtrack, you would think that the performers are hidden behind the trees!
A dazzling display of colourful Diamond lights is projected on the the towering Glass Houses, choreographed perfectly to the jazzy-rock music score by Metallica.   
The 18th century Inverleith House is a magnficent backdrop for an animation of iconic places around the city from the Castle to Forth Bridge. The windows represent an enormous Advent Calendar as the dates flick through from 1st to 24th December, and Mariah Carey belts out, "All I want for Christmas is You." 
This enchanting walk through a series of installations is like a mixed box of well-designed, glittering Christmas Cards .. but unfortunately, there is no narrative or overall theme. At its heart, this event is for families with young children, so a simple story could link these theatrical scenes together.
The Fairies in the Laser Garden could be trying to help a lost Reindeer in a search for Santa Claus.  Children could then follow a fun and fantastical, Peter Pan-style journey, flying through the Constellation of stars, land of ice, snow and fire, from the Chinese Hilltop to Lapland.  (Just an idea!)
And yes, a jolly Father Christmas does make a magical appearance with his flowing white beard and a majestic red coat, waving outside his log cabin in the forest.
Show times: 2nd December 2020 to 3 January, 2021 (selected dates)
Tickets prices range from: Adult £19, Member £16, Child £13 (4-16), Family £60. Carers and children under 4, free. (tickets subject to a single transaction charge).
Food and Drink at a Pop-up Bar: e.g. mulled wine, prosecco, beer, cider, hot chocolate, soft drinks; hot dogs, burgers, fries. (but no traditional chestnuts or mince pies!).