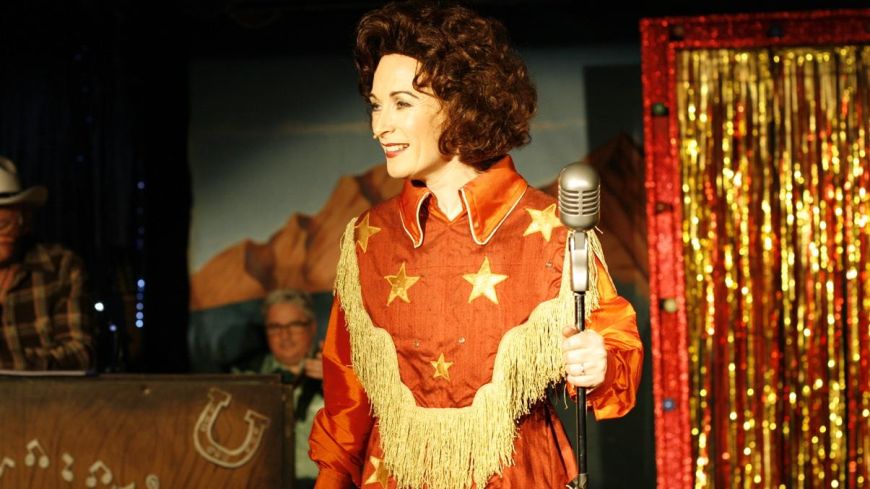 Company
Gilded Balloon by arrangement with the Òran Mór
Production
Morag Fullarton(writer), Ryan Alexander Dewar (director), Hilary Brooks (musical arrangements), Andy Cowan (sound design), Fraser Martin (lighting), Helen Stephenson (scenic artist)
Performers
Gail Watson (Patsy Cline), Sandy Nelson and Hannah Jarrett-Scott with Hilary Brooks on piano
As part of Edinburgh's Christmas, the Gilded Balloon is staging A Bottle of Wine and Patsy Cline that was originally part of A Play, A Pie and A Pint at Òran Mór, with the dynamic Gail Watson reprising her role as the eponymous singer.
Written by Òran Mór Artistic Director Morag Fullarton, the story charts the short but remarkable life of Virginia Patterson Hensley, aka Patsy Cline, from her poor start in life in Winchester, Virginia to her rise to stardom via the Grand Old Opry and Vegas before her premature death in a plane crash in 1963 aged just 30.
The Country mood is set with a medley of standards from C & W legends including Johnny Cash and Jim Reeves to put the audience in the mood as they face the stage with the kitsch glitter strip door surrounded by bright dressing room lights. Even the sound men got in to the mood by donning cowboy hats before the show's kick off!
Patsy's home state of Virginia is captured on the set's backdrop of the famous Blue Ridge Mountains. That landscape shifts to glittering stars in the second half when Patsy has made it to the big time, swapping her Annie Oakley fringes for some Rita Hayworth sequins in response to the question "Do you want to be a singing star or a rodeo star?"
The range of heartfelt emotions informed by her own life that Patsy Cline laced through her originals hits, like Crazy, She's Got you and Walking After Midnight, are brilliantly echoed through Gail Watson's own superb voice, that perfectly captures the wee catch that was such a signature of Cline. Her gestures while singing are absolutely spot on with that barely restrained wee jiggle that speaks so clearly of its time.
But this is no tribute act and Watson makes no claim to this. Instead she embodies the spirit of a feisty woman ahead of her time known for fairness and doing the right thing; one who led an on- stage strike saying to the impresario, 'no dough, no show'.
Watson, who also starred in the other glorious fun packed homage to female US singers penned by Fullarton, Doris, Dolly and the Dressing Room Divas, narrates Cline's story, occasionally breaking the 4th wall as her Scottish self as required on the night to the delight of the audience. As well as strutting her stuff in her gorgeous outfits, she also voices her mother and becomes the cleaner that an impresario used to gauge what would be a hit, with all other roles taken on by the strong supporting two- strong cast of Sandy Nelson and Hannah Jarrett-Scott in between being her backing group on guitar and snare drum, accompanied on the piano by musical director Hilary Brooks.
The duet of Wild Side of Life/Honky Tonk Angel, showing male and female perspectives to the same situation, is a stonker but don't forget your hankie as there are tearjerkers a -plenty amidst the entertainment and the final song Sweet Dreams under a solo spot is a triumph.
Every ticket comes with a wee bottle of wine from the bar with an exclusive Patsy label – a lovely souvenir of a great hand clapping, foot tapping, glitzy night out.
Thurs 30 November – Sat 30 December 2017 30 (not 4-5, 11-12, 18, 21 & 25-26) at 20.00 Sun 17:30