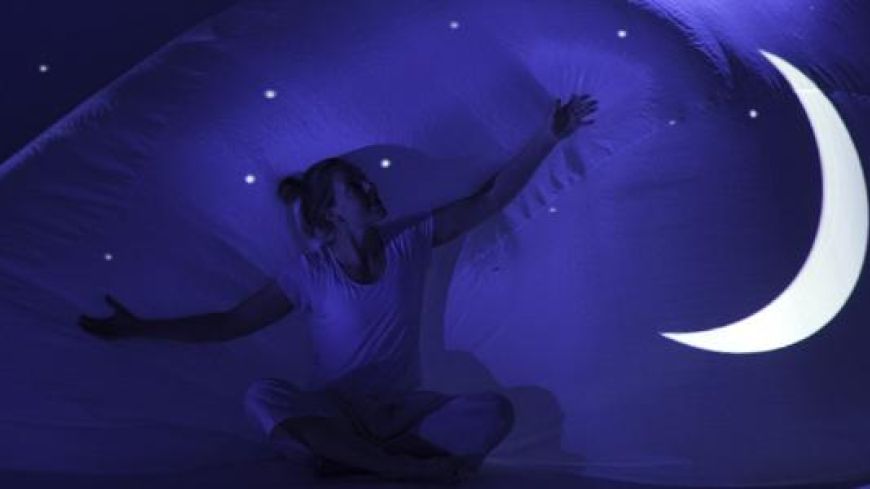 Company
Norwich Puppet Theatre and Polka Theatre
Performers
Mark and Alice
A set of flat cloud shaped cushions sit along the edge of the stage as performers Mark and Alice walk around using tiny power torches and capturing rainbow light from crystals that are suspended over a variety of surfaces, including their bare feet.
This gentle start merely hints at the amazing use of colour from this company. Pitched right at very wee ones, the set of big white clouds serves as backdrops to a multitude of imaginative landscapes. From swimmy sea to sparkly stars; from swaying grass with hopping frogs to traffic lights and lolling tongued dogs; from mutating cells to unburstable bubbles, then all the elements just for good measure, the three colours of green, red and blue imbue blank canvasses with their magic.
Using long cables with bulbs at the end, the two performers can change colours with a breath. Their props are simple but of course smart, using paper to create fish, boats and beautiful billowing shapes. Animated balloons and tiny birds on wires flit across a picture book sky as mellow music, including soft xylophone sounds, tinkles the air.
Silhouettes and animation appear on the clouds throughout but among the most impressive skills are those using paint via projection equipment. The effect of the magnification of paint and it being apparently smeared across the stage by Alice is just fabulous! Vying for best effect is the giant strawberry eating that sensational delight to watch.
This gentle show gets off to a slow start but ends up mesmerizing with an array of up close skills geared for tots but with the capacity to engage adults as well. Sheer delight!
3 Colours is part of the 2014 Puppet Animation Festival that celebrates its 30th birthday this year.
Show times
Fri 4 April 1pm and 3pm,
Sat 5 April 11am, 1PM and 3pm
Sun 6 April 11 am, 1 pm and 3 pm
Age 2-4 years