Image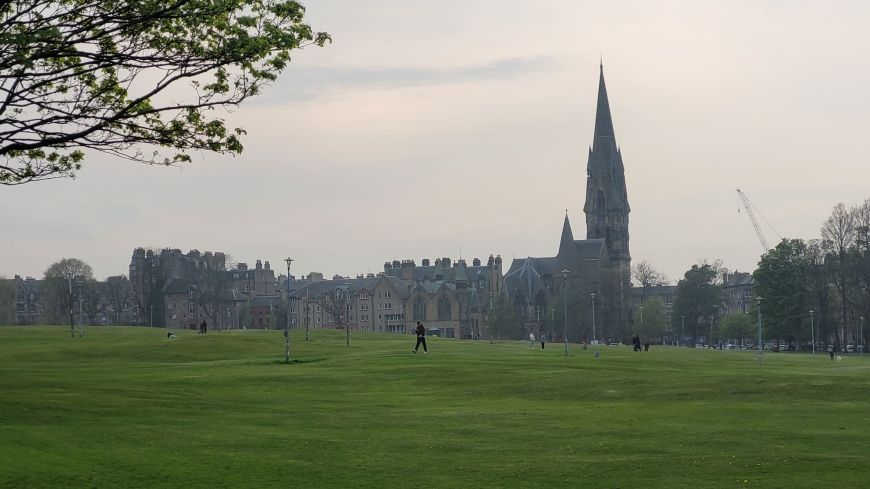 Bruntsfield Links is a 35-acre (14 ha) public park in Bruntsfield, to the south of Edinburgh's city centre. It's adjacent to the green expanse of the Meadows.
Links is a Scots word for golf, which may have been played on the links from practically the origins of the game. The Golf Tavern claims its heritage back to 1456 (which some have questioned) while historical records reference early golfers playing on this common in 1695. The area was used to quarry rock, with golfers using the holes and piles of debris that was left as a forms of bunkers.
The Royal Burgess Golfing Society founded in 1735 and the Bruntsfield Links Golfing Society founded in 1761 played here, before congestion on the course forced them to seek a new home. Initially, they moved from Bruntsfield to the location of Musselburgh Racecourse in 1874 and 1876 respectively. They subsequently moved to their current home on the Cramond Regis Estate, a formal royal hunting ground on the north-west edge of Edinburgh, in 1895 and 1898.
Free golf
Golf, of the pitch-and-putt variety, has been played on the 36-hole short hole course since 1890 and for centuries before that on a shorter course. Today, the course is one of the few in Scotland that is free, but you need to bring your own clubs (short iron/wedge and a putter is recommended) and golf ball(s). It's a unique setting for a golf course, so close to the centre of town and with Arthur's Seat in Holyrood Park rising off in the distance.
The Golf Tavern is a popular end spot and you can download a score card from its website.
The Bruntsfield Short Hole Golf Club has further historical information and details of events being held at the course.
Park life and mobility
Bruntsfield Links is criss-crossed with paths and is a popular place for lazing on sunny days. The cycle route on Leamington Walk is a good, alternative, quiet route traversing East-West through Bruntsfield Links and connecting with Middle Meadow Walk to connect with Southside, Tollcross or the Old Town.