Image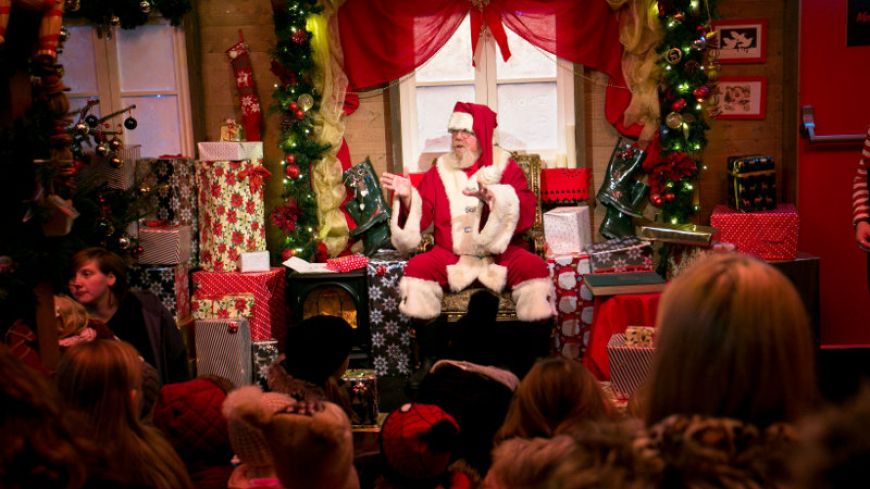 Santa will be setting up stall this year at St Andrew Square as part of this year's Edinburgh's Christmas festivities. 
The official Edinburgh's Christmas 2023 celebrations start on Friday 17 November with the opening of The East Princes Street Gardens Christmas Market. Santa's Stories will be taking place from the 18 November til Christmas Eve at the Piccolo tent erected in St Andrew Square.
Santa Stories are roughly 20 minute sessions that take place every half hour for up to 22 children. Each child will have the opportunity to meet the big bearded man and receive a gift suitable for their age range.
Santa Stories also has smaller, quieter, relaxed sessions for children with additional needs. St Andrew Square will also have a letter writing station for kids, a 10m tall Christmas Tree and Social Bite's Gift Donation point.
The Festive Family Funfair in West Princes Street Gardens, Santa's Workshop and Social Bite Festival of Kindness at St Andrew Square, and the Ice Rink on George Street West open from Saturday 18 November. 
Edinburgh's Christmas will also see the return of artisanal gift stalls and festive food and drink from around 80 market stallholders.
As well as the Christmas markets in East Princes Street Gardens and George Street, with their familiar wooden chalets, LocalMotive's Christmas Market will return to Castle Street 25 November to 22 December. 
Edinburgh's Christmas celebrations will run for seven weeks til Saturday 6 January 2024.
Edinburgh's Christmas stallholders (alphabetical list)  
Ali's Cream
Allson Sparkle - Pilgrim's Drinks
BBQ
Brownhill Whisky Co - Pomology
Cherry Tree Preserves
Chock Shop UK
Chocolate Bar
Christmas Wow
CHURROS  
Coffee, Churros and Donuts
Crêpes and Waffles
Diedododa
Eat Indian/ Indian Delights
Edwin Berry Candles
From The Olive Tree
Granny Charlotte's Fudge
Great Glen Distillery
Hairy Fairy Gifts
Hector and Harriet
Islander Edinburgh
Isle of Skye leather
Janmilne Jewellery
Joe Cool
JustStars
Kari Ceramics
Kydd's Crafts
LOUD elephant
Mac Love
Macraes of Edinburgh
Mini Pancakes
Mulled Wine
Native Handicraft
Newt&Co
O'Donnell Moonshine
Old Maps Library
Pama Crafts
Paraffle
Jarvis Pickle Kitchen
Pincho Poncho
Pizza Pitch
Powder
Pure Pet Food
Ramsay
Real Scot
Riccardo Gallinaro
Roast Carvery
Roasted Chestnuts
Royal Mile Silver
Rusty Signs
Salmon
Salt and Chilli Chicken
Sam's Handbags & Gladrags
Snow Globe
Soctopus
Solid Cologne UK
SPINART WIND SPINNERS
Street Burger
The Big Angus
The Cocktail Geeks
The Edinburgh Bow Tie Co.
The Edinburgh Natural Skincare Company
The Fudge Company
The Nutcracker Christmas Shop
The Peruvian
Ting Thai
Underglass Terrarium Limited
Unicorn
Unikalus Vaizdas Ceramic Candlehouses
Wanderers Kneaded Limited
Waverley Cafe
We Sell Dumplings / We Sell Popcorn Chicken
Westmount Art
Wholly Waffles
World of Baubles
Zaza London Limited