Image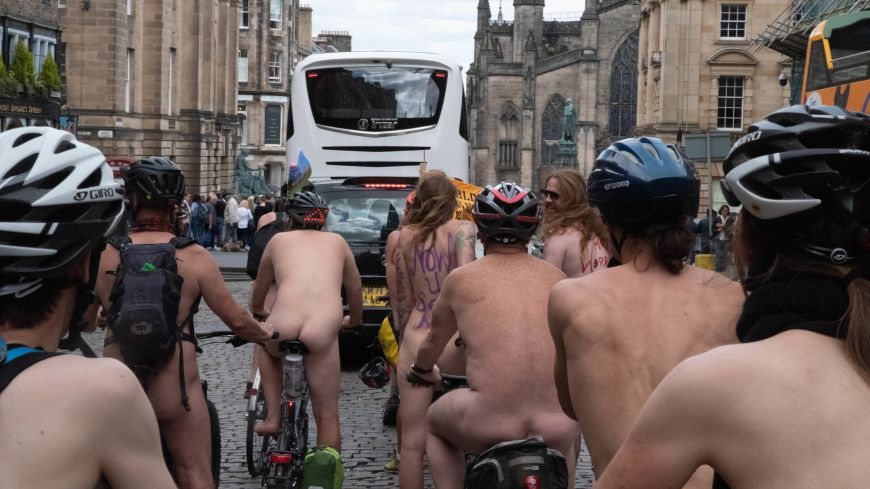 If you see a bunch of naked cyclists happily pedalling around the city this Saturday, don't be shocked. It's part of the annual World Naked Bike Ride (WNBR), a fun ride that takes place in up to 60 or 70 cities worldwide each year to highlight the dangers cyclists face each day on city roads.
EdinburghGuide.com talked to Iain Jack, a spokesperson for the Edinburgh WNBR, about the aims of the ride and what it's like to ride a bicycle, naked, down the High Street on a busy, Saturday afternoon. 
Can you tell us a bit more about yourself and how you got involved with WNBR?
I'd rather it was about the WNBR than me! In fact, just referring to me as a spokesperson (pun intended) would be better!
I was involved on the periphery for some years, then when no-one else was available to run it, felt it would be a shame if it stopped, and stepped in. I'm involved with various other cycle, and environmental protests. 
Over years of cycling in the city, I've come to realise just how bad the emissions are. The air in Edinburgh stinks of exhaust fumes!
People who are involved tend to be cyclists, naturists, people concerned about the environment.
What are the aims of the ride?
The official aims are: to celebrate cycling and the human body. The ride demonstrates the vulnerability of cyclists on the road and is a protest against oil dependency, and against car culture.
It is also to celebrate body freedom, and for active transport. Like bikes.
Why naked?
Well, we have a tagline "Cyclists might as well be naked in traffic." It demonstrates our vulnerability to motorised traffic. Including the fumes from traffic!  It's unusual, so people look, and hopefully get the message.
People also use the slogan "Can you see me now!" Cyclists often feel that other road users simply don't see them. Naked we seem to be more noticeable than dressed in hi-vis!
Can you explain how the law views public indecency? What's the latest with regard to the legality of WNBR Edinburgh?
It's legal! We aren't indecent! Just naked, or scantily clad!
We have to get a parades permit from the council. The police are involved in the licensing process. The police come and see us off, and meet us when we get back. 
They will tell us if there is a reason to get dressed.
In brief, going about your otherwise lawful business naked, isn't illegal. In this case, we also have a legal right to peaceful protest. 
Setting out to alarm people, or with a sexual motive, would be illegal, but we aren't doing any of that.
Here are some links to information from British Naturism on the subject and the Naturism is lawful leaflet.
What's it like riding a bike through the city when you're naked? What reactions do you get?
Somewhat scary at first! You rapidly get used to it, and forget you have nothing on. 
Then it's fun!
Most people wave, laugh and cheer!  This does help take the edge off the nervousness.  Lots stop to take pictures. Some ask us what it's all about. We hand out flyers explaining.
Must get cold (it's Scotland)?
Well, that's why we've moved it from June to July! Although we have had a few times when it's been boiling hot, mostly it rains and is cold. After the last three times - where there was pouring rain, then showers and a cold wind, then last time a biting cold wind - we had a post ride poll, and decided enough was enough, and moved it to July. 
It does look as if we will still get the strong wind, but it might be warmer. 
If you are exercising, it does help keep you warm! It gets cold going through Holyrood Park, then going up the Royal Mile warms you up again!
How many people go on the WNBR?
In Edinburgh, usually only about 20 to 30 people. In bad weather, it's been more like 12,  although we've had a surge in enquiries this year. London, has around about 1000. Brighton is probably biggest.
We've been going since about 2004, but have stayed small. Other rides, like London, are now huge. Especially worldwide.
Anything else you'd like to add?
If you have a bike, come and join us! Well-behaved cyclists are welcome! You don't even have to be naked. "As bare as you dare" is fine.
The 2023 World Naked Bike Edinburgh leaves Middle Meadow Walk at 1pm and rides for 3pm around the city. View EG's event listing to find out more.