Image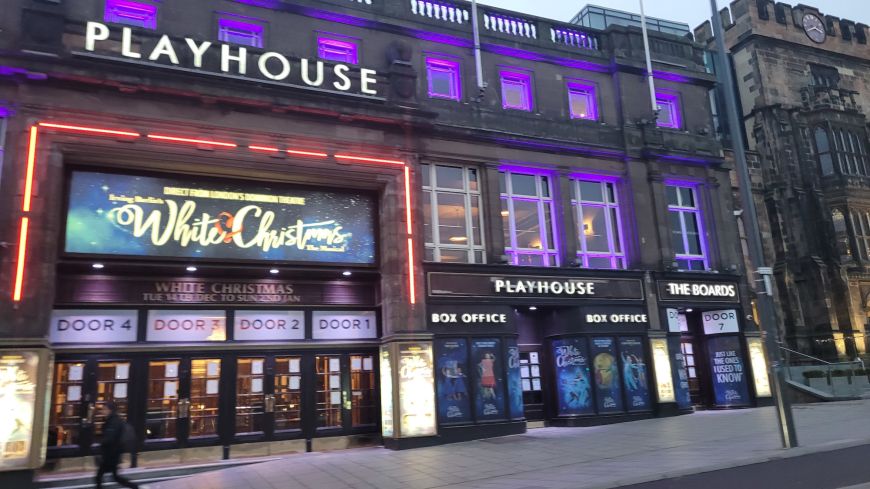 Major Edinburgh theatres have announced that they are cancelling Christmas shows and going dark again over the festive period as Covid-19 infection rates rise in Edinburgh.
Following on from this weekend's cancellations of Christmas shows in venues in Edinburgh, including Edinburgh Castle, several of Edinburgh's top theatres have cancelled festive runs - the Playhouse, the Traverse, the Lyceum, and the Scottish Storytelling Centre are not going ahead with Christmas shows as scheduled due to Covid-19.
The Edinburgh Playhouse which previously had to cancel its weekend shows of the classic Christmas musical White Christmas, announced today that it will now cancel all further shows in its run at the Playhouse "due to issues surrounding Covid-19". It was due to run til the end of the month. Many ticket-holders had booked to see the show two years ago.
The Lyceum posted tonight that its show Christmas Dinner is cancelled. In its announcement it said: "We regret to announce that despite all our precautions, our production of Christmas Dinner has been affected by Covid-19 and unfortunately this means that all remaining performances of Christmas Dinner must now be cancelled."
Ticket-holders will be refunded and will be able to view the show online. 
"We look forward to welcoming you back to the Lyceum when performances resume in 2022," said the notice.   
This afternoon the Traverse also announced that its Christmas show Wilf is cancelled:
"We are sorry to let you know that we have taken the very difficult decision to cancel performances of Wilf from Tue 21 - Fri 24 Dec, to protect the health of our audiences, company and staff. 
It is with a heavy heart that we have concluded that the best option for the Traverse, its audiences and staff, is to cancel the last few Wilf performances this week (Tue 21 - Fri 24 Dec) and close our building to the public from Tue 21 Dec.
We are sorry to disrupt festive plans but this very hard decision has been made in light of all the information we have received from Scottish Government, through our personal experiences, regarding the prevalence and speed of the transmission of the Coronavirus Omicron variant, and our duty of care to our community and colleagues.  
As ever, our priority is protecting the health of our audience, company and staff.  
We have put all reasonable measures in place and in the Traverse's case we have continued to enforce social distancing and many other safety measures in all our spaces since we physically reopened in summer 2021.  
We have consistently received very positive feedback from Traverse customers that they have "felt very safe", "looked after" and have absolute confidence in the protocols in place.  
However, we now face a constantly shifting and rapidly escalating situation and  have concluded that a bit of "pit-stop" is needed for the safety of everyone involved, and to enable us to return with strength in 2022."
The Scottish Storytelling Centre announced yesterday that it was closing for a week and that its Christmas run of  Macastory's Jack and the Beanstalk has been postponed until the new year.