Image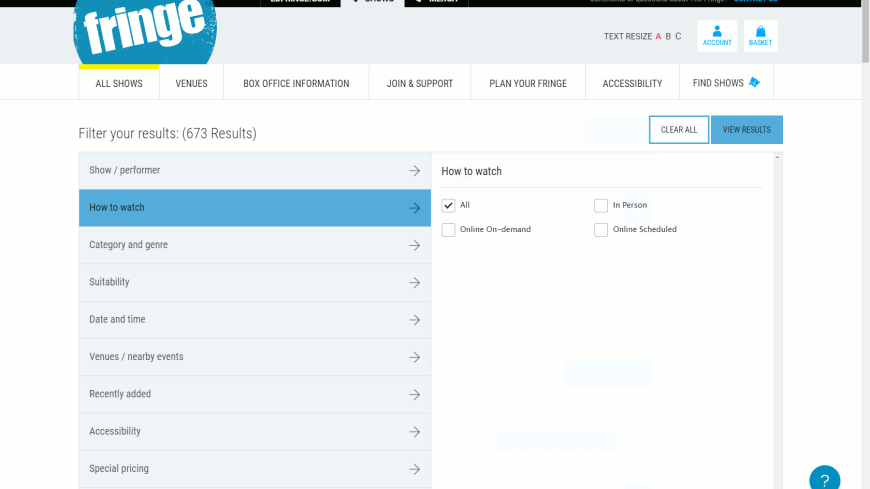 The Edinburgh Fringe Society made the weekly refresh of its programme yesterday, with another 184 shows added to its website. 
With the start of the Fringe a week away on 29 July 2021, there are now tickets for over 670 shows on sale with shows expected to be added on an ongoing basis as the Fringe continues. 
The Fringe website lists 427 events as In Person, and 246 listings are for online shows. There are now 106 venues in total, both online and in-person venues.
Among the in-person shows announced are Watson: The Final Problem, with Sherlock Holmes's old ally sharing a tale of long-buried secrets, betrayal and death. 
In Patricia Gets Ready (For a Date With the Man That Used to Hit Her) at Pleasance at EICC, Patricia has some big decisions to make: after spending a year crafting a kick-ass speech while recovering from an abusive relationship, she bumps into him in the street and accidentally agrees to dinner with him that night.
Longtime Fringe comedian Arthur Smith is streaming in via Pleasance Online with SYD. The show is a tribute to Arthur Smith's father, Syd Smith, who fought at El Alamein in the Second World War, became a prisoner of war, and ended up in the notorious Colditz Castle in Germany. 
Best of the Fest is back at Assembly George Square Gardens with a mixed-bill of top-flight comedy. 
There's folk music in the form of BrÒg, Hannah Rarity, Mairi Campbell, and Iona Fyfe at the Acoustic Music Centre at the Ukrainian Cultural Centre.
Children's Shows
For kids, there's A Rubbish Midsummer Night's Dream at Pleasance Courtyard; magic and fun in Elliot Bibby: Leftover Lunch at Assembly George Square Gardens; a Storytime Drag Queen at Assembly Roxy; and Roald Dahl's The Twits is at Pleasance Courtyard. 
Laughing Horse @ The Counting House has The Anterbury Tales - 'Chaucer, but with insects' and Cecily's Belly Laugh Picnic – Musical Balloon Band is where under-8 audiences can hop, bounce, jump, wave and sing along.
PBH's Free Fringe is also back for 2021 with shows that include free, but ticketed Late and Lovely – a late night show with games, jokes and a house band.
PBH venues this year include Subway, Canons' Gait, Banshee Labyrinth, Globe Bar and Ciao Roma.
More Laughing Horse shows have also gone on sale using a Pay-What-You-Can model (for example, £2.50 and up). Shows include Paddy Young and Adam Flood, Nicole Harris: No Brainer and Potless Scott.
The Fringe also announced this week that street performers will be back on the Royal Mile, albeit in a more limited way than in previous years. 
Events will run daily from 11:30 until 8.30pm on the High Street's designated Fringe Safe Street Performance Area, West Parliament Square. 
All performances will be delivered in accordance with current and relevant Covid guidelines. Events will be programmed daily, with event details published online to audiences in advance to allow them to plan. 
Limits on audience numbers will be introduced in line with social distancing, masks and sanitisation.