Image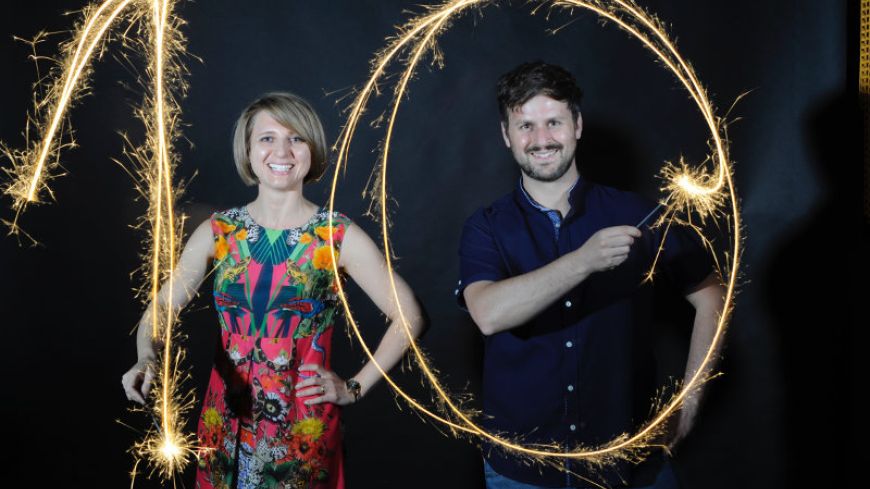 MagicFest, also known as the Edinburgh International Magic Festival, launches on Friday with more mystifying and spellbinding performances from top magicians, mind-readers, and illusionists.
This being the tenth edition of the festival Edinburgh Guide took the chance to talk to the husband-and-wife team who founded and have produced the festival since 2010.
Thirty nine year-old, Edinburgh-born Kevin McMahon is MagicFest's artistic director and is himself a magician who performs in the festival under his stage name Kevin Quantum.
Thirty five year-old events organiser Svetlana McMahon (née Shevchenko) is the producer of MagicFest. She originally moved to Edinburgh in 2007 to do her Masters in Festivals and Events at Napier University, which led to her starting MagicFest.
EG: Kevin, I read you have a PhD in Physics and your show Anti-Gravity is a play on the idea of life without gravity...
Kevin: Sadly it's an unfinished PhD, but AG show did explore a world with Anti-Gravity, or in other words a world where things "fall up".
EG: Science and magic don't seem worlds apart. For example, I see psychologist Richard Wiseman credited for two of the shows at MagicFest. Is a science education a good grounding for becoming a magician?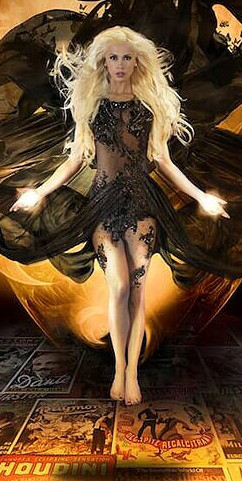 Kevin: Probably just as good as any other educational background. Magicians should bring something else to their performance in addition to magic. With my physics background I decided to infuse a bit of science into my show. I like to blur the lines between what's possible and impossible. My friend Renz is a poet and brings that to his magic. Mind-reader Colin Cloud studied forensic science and he uses that in his act.
Having said that I notice that a large section of magic audiences are (strangely?) scientists and engineers. Magic teaches you to be curious and because of that I think they come for two reasons: one, to problem solve and work it out! And, two, to be inspired for their own work. Magic is good for making folks believe the impossible is possible.
EG: What got you into magic?
Kevin: Reality TV. I was midway through my physics PhD when I had the opportunity to go on Channel 4 show Faking It. The idea was to learn a new skill in four weeks well enough to fool a panel of expert judges. I had to learn to do magic. What followed was four weeks in London learning from the best British magicians, a week in Vegas, including a masterclass with Penn and Teller, before convincing Paul Daniels that I was an actual magician in the final test. And that was how it began. The rest has been working with other amazing performers, mentors and on the job training. It's been a ball.
Svetlana: I met Kevin at the Fringe festival: went to see his Fringe show Magic To Get Girls By with a common friend and, well, Kevin introduced me to this wonderful world of magic and I never looked back!
EG: I didn't realise that you were married. What was it about Kevin's magic that attracted you to him? Was there a particular trick that stands out?
Svetlana: We got married in 2011, a year after we started a festival. I guess organising a festival together was a good test for our relationship. We realised that we are a good team!
In terms of attraction of course I loved the show, but what really impressed me was his story – I admire people who are not afraid to change their lives dramatically and follow their dreams. So the fact that Kevin left his safe academic path and decided to pursue an exciting but completely unpredictable career of a magician really fascinated me and I soon found out that our ambitions and entrepreneurial spirits are very much alike.
EG: Kevin, is there a trick that you remember having a particularly potent effect?
Kevin: Many years ago I was working in Dubai for a 6 week stint, performing magic shows at the mall of the Emirates. It was February and St Valentine's Day was approaching and I wanted to do something special for this celebration. At that point I came up with a new effect where an origami rose transforms into a real rose in a flash of light. It was a huge hit over the valentine weekend and my magician friend Ben suggested that it should become part of my standard act, not just a Valentines' special. Since then that 'trick' has been a mainstay of my close-up magic act, ingratiating me into groups that would have been rather tricky to interact with otherwise. My wife still keeps the rose I produced for her on our first date!
EG: Why did you start MagicFest? Was Harry Potter a factor?
Kevin: Well, Svetlana was a Festivals and Events Masters student, fresh out of Napier with a burning ambition to start an arts festival. I was a two-bit, close-up magician. And the rest is history!
Seriously, we met at the right time. Sveta wanted to make a festival and I introduced her to magic. There were no magic festivals at the time so we started one. Harry Potter wasn't really a factor at all, to be honest.
EG: How has MagicFest changed in the last 10 years and what have you tried to do with it?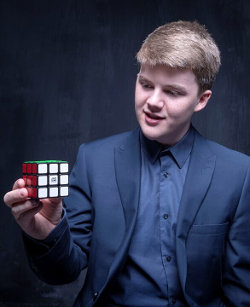 Kevin: In the early years, we were obsessed with growth, making the festival as big as we possibly could. We almost exclusively focussed on bringing overseas talent to Edinburgh. These days we focus on quality events and encourage local talent to step up. And it seems to be working, since the festival started some of the biggest names in world magic can claim to have cut their teeth at MagicFest. We even just saw the first Scottish Young Magician of the Year in decades. Adam Black (pictured), has been coming to the festival since he was nine, now he's 18 and one of the best up-and-coming magicians in the UK.
EG: What is the most mind-blowing magic trick that you saw at MagicFest?
Kevin: Probably last year when Marcel Kalisvaart (Magus Utopia) came to Edinburgh. The first time we saw them perform was at the European magic championships eight years previous, ever since then we have been trying to get them to Edinburgh. Last year we managed it and boy did they deliver. Some of the most wonderful and interesting illusions wrapped in a "nightmare" narrative. Stunning to watch.
EG: Magic is a fairly broad umbrella. What kind of magic can audiences expect at MagicFest 2019?
Svetlana: We have shows for kids, for sci-fi lovers, for comedy magic lovers, variety lovers, workshops… If you are willing to take a chance on a magic show then we really want to blow your mind so you come back!
EG: What are you particularly looking forward to at this year's MagicFest?
Kevin: I always love the Gala show. Some of the most memorable moments from past festivals happened during the gala - Paul Daniels' face being licked, Maestro Voronin coming to Scotland for the first time, Juan Tamariz getting a standing ovation from a room packed full of Spanish magic fans. It's just so varied and so much fun!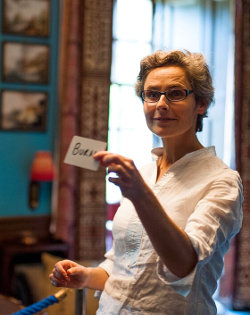 Svetlana: I can't wait to open our brand new production Hogmanay House – a first-footing adventure at Lauriston Castle. I love immersive experiences and promenade shows so I'm super excited to see the audience reaction to this show packed with music, magic, storytelling, mischief and tall tales from around the country celebrating Hogmanay traditions!
EG: You give an award for great stage magicians (the Great Lafayette) so what makes a great magician?
Kevin: Oh! Good question. Well, firstly our award is for magicians who have "contributed greatly to live performance magic". This doesn't solely mean stage magicians, but can also be illusion designers (like Jamie Harrison 2017 recipient - who created all the magic for the Harry Potter West End show).
But personally, if you're asking me about what I look for, firstly someone who connects deeply with an audience. Someone I want to watch.
Secondly technique, someone who has put the hours in rehearsing to be as good as they can be.
Finally someone who performs original magic, I love to be surprised and I've seen so much magic that when I see something original, that fools me, it really takes my breath away.
EG: In the age of YouTube, where magicians' secrets are always being exposed, how difficult is it to keep on maintaining original illusions and magic? Has the internet changed things?
Kevin: Not really, very few people in the grand scale of things watch these videos, unless they're interested already in magic. And the good magicians are infinitely great to watch, because the secret of their success isn't the 'trick' but the connection with the audience.
EG: Is there any kind of "magic" that you steer clear of, that you don't like?
Kevin: Not really. I'll happily do any kind of magic that allows me to accomplish the effect I want to achieve.
Svetlana: I think generally we are trying to avoid magic clichés that make magic sound old-fashioned and dates, we really want to promote it as an art form with some cutting-edge, modern and super creative acts.
EG: I saw you set a Guinness World Record for biggest Magic Lesson in 2012. Why did you do that, and do you still hold that record?
Kevin: This was a partnership with Royal Blind Charity, a wonderful Edinburgh based charity. They had an idea and asked me as Artistic Director of the Magic Festival to come and advise in the early stages. What came about was a wonderful event in the grounds of Fettes College. In fact when I was being interviewed today for the BBC it came up and it turns out the cameraman was in the audience that day!
Sadly, someone else has the official record now, however, I hold the unofficial title after performing a magic lesson in the Hydro to just under 10,000 kids earlier this year!
EG: What number am I thinking of right now?
Kevin: You're not thinking of a number, you're thinking of a banana. And if you weren't, you are now.
EG: Ha, ha. That's right!
MagicFest runs from 27th December 2019 to 5th January 2020. Book tickets at MagicFest.co.uk