Image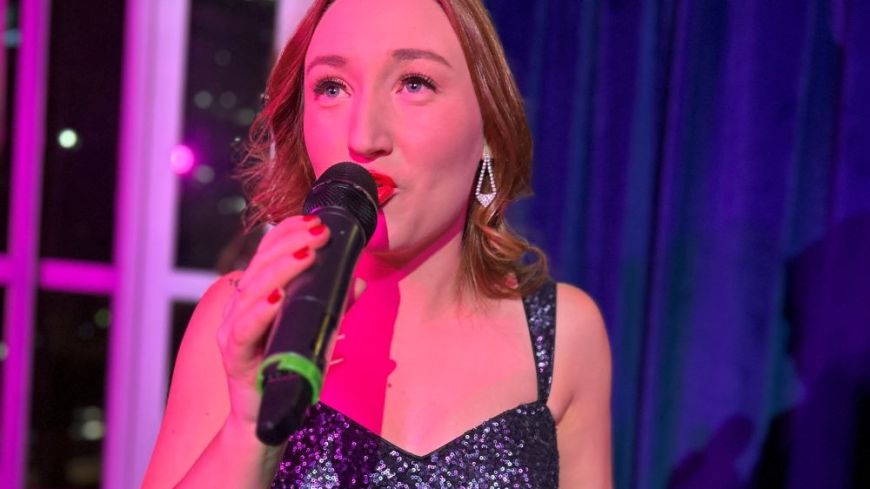 Company
Carly Fisher and Olivia Ruggiero Productions
Production
Carly Fisher (director and co-writer)
Performers
Olivia Ruggiero, (singer), James Hall (keyboard)
Broadway Diva was a sell out show at the Adelaide Fringe Festival 2023, described by one critic as "utterly entrancing" and now has its international debut in Edinburgh.  The premise is a celebration of earworms, those familiar songs you just can't get out of your head from favourite Broadway and West End musicals. 
Olivia Ruggiero graduated from Griffith University at Queensland Conservatorium of Music with a Bachelor of Musical Theatre and was named Broadway World Sydney's Best Solo Performer of 2022.  While 11.40am is a rather curious time for a Cabaret, Olivia steps on stage in a sparkling blue evening gown to kick off with the enchanting ballad, Journey to the Past from Anastasia, and then the gorgeous Garland classic, Over the Rainbow.
With James Hall providing live music with enthusiastic gusto, these curtain raiser songs show off her powerful vocal range and melodic musicality as she takes us on a musical journey to relive the vintage classics we know and love. Olivia has a natural, easy manner introducing each number with inspiring and humorous stories along the way: as a young girl, her grandmother was such a major influence in sharing her love of Musicals which has led to this professional career. A comical song relating the ordeal of the endless round of auditions is well dramatised, facing the stiff competition of the other dozen girls 'who are younger than me.' 
In a Golden Age medley, we hear short snatches and snippets of numbers from the King & I,  Sound of Music, My Fair Lady, West Side Story et al. But unfortunately, just when most of us will begin to silently hum and follow the familiar tune in our head, she suddenly switches rhythm and beat to move onto a different musical.  This sequence didn't work and was rather frustrating when you expect to hear the complete song.  Also an Aussie medley and while it is quite understandable to include Australian musicals, these songs are not earworms for a British audience. Of course, there could be many Australian and international visitors who might know Girl Scout from Beetlejuice or Amazing from Muriel's Wedding.
As musical theatre can cross over to opera, we are treated to a slow rendition of Puccini's O Mio Babbino Caro, about a lovesick girl pleading to her father with soaring soprano notes. 
Highlights include a passionate version of I Don't know how to Love Him from Jesus Christ Superstar, in which she captures the character and dramatic narrative.  Then, sitting on a stool she steps into Sally Bowles mode with Maybe This Time from Cabaret with heartfelt emotion. 
This Cabaret would have benefitted from an early evening time slot and a more intimate theatre in the round, where the audience could sip a cocktail while enjoying this cool and classy entertainment. 
This young Australian star is a vivacious and versatile performer portraying her wide ranging theatrical talent and vocal range as a singer and actress with bright and breezy charm: sporting a sparkly pair of ruby red shoes, Olivia Ruggiero is a wonderful, witty Wizard from Oz! 
Showtimes: 
14 – 27 August, 2023 @ 11:40 (run ended)