Image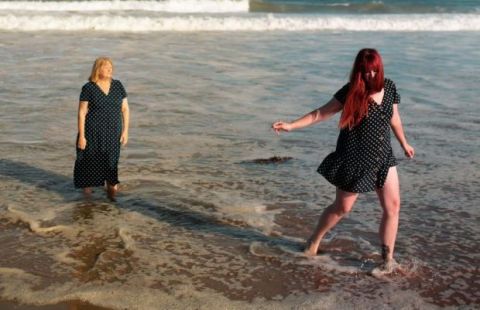 Company
Family Production Company
Production
Brent Thorpe (director), Christine Firkin (writer), Kay Proudlove (music and lyrics),
Performers
Christine Firkin (Dottie/Jennifer), Kay Proudlove (Jennifer/Sophie)
A story of mothers and their daughters and the things they will do for each other no matter what life throws at them or how far apart they are.
See You Later, Mum stars two women but spans three generations; clever use of costuming and accents makes it clear who is who when. It starts in 1965 in Northern England as Jennifer sets sail to a new life in sunny Australia and leaves her mother, Dottie, behind. They communicate through tapes, but after Dottie misses some of Jennifer's biggest life events, she resolves not to miss one more thing.
Written by Firkin with lyrics and music by Proudlove, they are a perfect team complimenting each other in every way. Proudlove's voice is both soft and strong, and Firkin's Dottie is the exact replica of every annoying but well-meaning mother we all know and love.
A heartwarming show that gives the right amount of laughter through your tears, it is simple and powerful with one line that we've all heard before, "You're gonna miss me when I'm gone." Usually delivered as a threat, it's more of a promise; you'll want to leave the room and immediately call your mom, daughter, or both - and bring a few tissues; you'll need them. 
Tickets here
Aug 5-13, 15-20 | 18:45
Suitability: 12+ (Guideline)