Image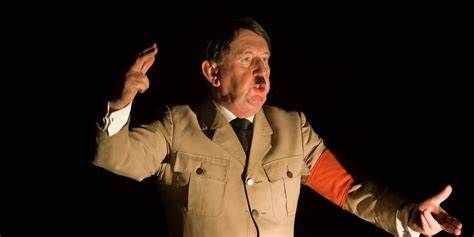 Company
Pip Utton Theatre Co.
Performers
Pip Utton (Adolf)
In 2019, esteemed solo performer Pip Utton held the promise that it would be the final time he played the role of Adolf Hitler.
In 2022, esteemed solo performer Pip Utton brought this paradigm of monodrama back. And the worrying thing is, it's perfectly understandable why he chooses to do so.  
From Chaplin to Einstein, Francis Bacon to Thatcher, Utton possesses a rare talent to inhabit the minds, physicality and even auras of history's greatest and grimmest. But there's one performance that plumbs the depths of depravity to recount the final days of the 20th century's most monstrous tyrant, slinking a sting into our expectations.
Pip Utton Presents Adolf is a masterpiece in subverting expectations and aligning performance with discomfort; can you admire a performer who embodies such distinctive movements, mannerisms, and the presence of a man responsible for endless atrocities? Do you silently enable the words of the Führer to infiltrate once more or feel revolted in your stomach? That's the sign of powerful theatre.
Theatre with no fear of pushing the imposed boundaries, Utton's writing tests audiences' volitions as it charges, without reserve, forward with recitations of the Führer's final promises and commands that his ideologies are not dying, merely waiting. The most fearful moment not Utton's volatile outbursts or even the claustrophobic lighting, but instead a gentle coaxing of preconceptions, contemporary beliefs, and a spine-chilling reminder that fascism "never really left".
It becomes more evident as the signifiers align once the performance 'finishes' and the breadcrumbs grow more numerous as Adolf morphs into something more than audience expected. As the production's chilling lighting begins to stir once more, illuminating the stolen and perverted symbol of the Nazi party again; the beer-swilling, open-shirted Utton suddenly evokes a familiar Trumpian visage of the metamorphic ability of contemporary politics. Finishing with a reminder that this, again, is the last showing of Adolf, one can't help but wonder if it will never end until the rest of the world gets the message.
Show Times: 21 August 2022 at 21.00pm.
Tickets: Sold Out
Suitability: 16+. Contains distressing themes, Strong language/swearing, Contains homophobic and racist language that may cause offence.