Image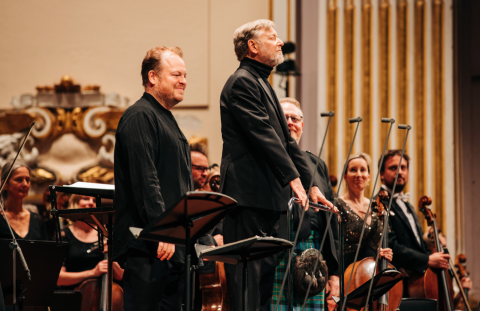 Company
Royal Scottish National Orchestra, Edinburgh Festival Chorus, National Youth Choir of Scotland
Production
Elgar, The Dream of Gerontius

Performers
Sir Andrew Davis (conductor), Aidan Oliver (chorus director), Christopher Bell (junior chorus director), Karen Cargill (mezzo soprano), Andrew Staples (tenor), Iain Paterson (baritone)

Since the Edinburgh International Festival of 2015 the man in over-all charge has been Fergus Linehan. Before the lights dimmed for the start of the music, he came on stage with microphone in hand to say farewell and hand future Festivals over to Nicola Benedetti.
Edward Elgar took the text of a poem by Cardinal Henry Newman, newly converted to Roman Catholicism, as his text for The Dream of Gerontius in which a dying man prepares for death, the passage through purgatory and the hope of the sight of God. First performed in 1900 it wasn't appreciated by the low end of Established Church in England and adjusted for its Three Choirs Festival cathedral debut. Nevertheless, that forgiven, it is considered one of Elgar's greatest works.
The highly regarded tenor Andrew Staples was superb as Gerontius - in such a way that his narration seemed totally plausible. Although his part was slender, Iain Paterson, splendid in his kilt, was very firmly alongside Gerontius as he slipped away. And when he was on his way there was impeccable Karen Cargill singing the angel's support and guidance.
Sir Andrew Davis is no stranger to the Usher Hall and the Royal Scottish National Orchestra but doesn't often have the vast choirs of the Edinburgh Festival Chorus and National Youth Choir of Scotland in front of him. He, with Aidan Oliver and Christopher Bell, can be well pleased to have given us such a fine performance. And, as if also to say farewell to the reign of Fergus Linehan, it ended so appropriately with its multitude of Amens.
Event: Sunday 28th August 2022 at 7pm