Image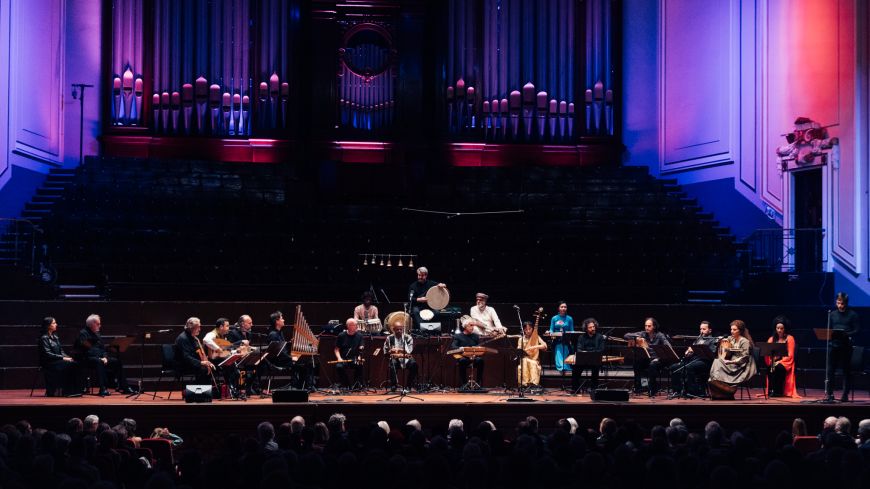 Company
Hespèrion XXI & Guests
Performers
Jordi Savall (director), Assaad Bouab (narrator)
With the music so carefully reflecting the cultures he experienced, we felt that we were truly travelling with Ibn Battuta – arguably the greatest traveller of all time – on his epic 14th century voyage of discovery.
From Morocco to Afghanistan, from India to China, this was an inspiring, vivid and vibrant programme, which transported us – in mind and spirit – to another time and world. There was a fascinating array of instruments employed – and Hespèrion XXI are known for unearthing lost works, instruments and scores from the Jewish, Ottoman and Armenic traditions.
As well as the music itself functioning as a commentary per se on Ibn Battuta's travels, the carefully crafted narration also evocatively helped signpost us through this exotic journey of journeys. A combination of the richly historical and more anecdotal held our attention throughout; and that these spoken interludes were accompanied by background improvisation, splicing one musical item with the next, created that greater sense of one continuous voyage.
There were a number of exceptional performances from among the musicians, but of particular note was the percussion, (there was spontaneous applause part way through 'Laïli Djân', the virtuosity being so impressive), and the spectacular voice of guest soprano Maria Chiara Gallo. Generally, the second half of the recital seemed perhaps the more arresting; while the penultimate 'Song of Separation' (a haunting lament) and the beautifully delivered 'Durme, Hermosa' within the 'Dialogue of Souls' (the concluding work of the concert) were two of the most moving individual pieces.
Before the encore, Savall spoke powerfully about his conviction that music is the best way to dialogue with other cultures – because music cannot lie. He spoke of his firm belief that music is also the language of connection – the language of solidarity – thus reminding us of its importance in our own continued fractured world; and so encouraging us to leave, feeling the world we experienced that evening may not, actually, have been so far away after all.
The performance finished at 9.45pm.
Ibn Battuta – The Traveller of Time, Wednesday 17th August, 7.30pm, Usher Hall