Image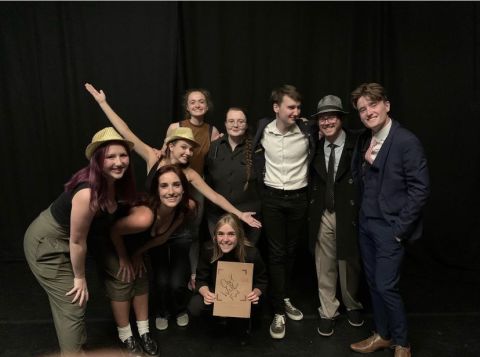 Company
Mermaids Performing Arts Fund
Production
Matthew Torkington (writer/director/composer)
Performers
Matthew Torkington (Inspector Morse), Rachel Winterhalter (Inspector Lawson), Oscar Cooper (Inspector Langham), Joss Church (Sebastian Bianci), Natalie Westgor (Ms International), Taylor Colbeth (Anna), Heather Tiernan (Ivy), Amelia Stoked (Layla Grange),
Double Crossed is a new comedic musical from the University of St. Andrews about two London police officers, the retired Inspector Langham and his junior partner, Inspector Morse, who travel to a small rural Welsh village to solve a crime. And yes, the sheep joke ("Protection from what?! Particularly horny sheep!?) got the biggest laugh. 
Straight-shooting Langham's long-lost sworn enemy, Sebastian Bianci has resurfaced as part of the crime organisation Double Crossed. He, along with Morse (a hilarious conglomeration of Basil Fawlty, the Pink Panther, Gilderoy Lockhart, and the 11th Doctor) and the local Inspector Lawson, will get him once and for all. 
Along the way, we meet local villagers, Anna and Ivy (Heather Tiernan as Ivy could have done with a solo - what a voice!) and watch the main characters get themselves in and out of a few scrapes on their journey to justice. 
Morse, played by Torkington (also the writer/director), is the one you can't take your eyes off; he maintains the strongest stage presence even in the full ensemble numbers. Natalie Westgor, as Ms International, a sort of Carmen Sandiego femme-fatale type, also knew how to command an audience - her big number and was a joy to watch. 
At times plot felt slightly disjointed, but that makes sense as it was initially written as a full-scale two-and-a-half-hour show that Torkington re-wrote to fit the 50-minute parameter of the Fringe.
A little projection would have gone a long way; I struggled to hear Lawson, played by Rachel Winterhalter, who has a gorgeous alto range but lost the power in her voice in the higher notes and Joss Church, who played a great Bianci otherwise.
A student production with the chops to go a lot further, here's hoping they can put on the entire version next year - I'll be there on opening night!