Image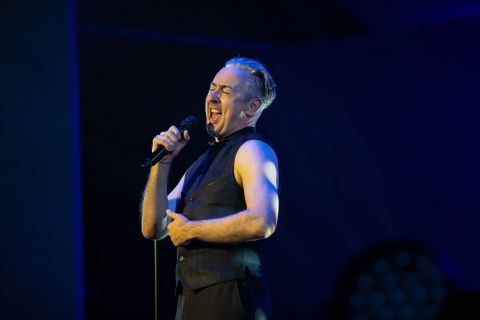 Company
Edinburgh International Festival
Production
Henry Koperski (Music Director)
Performers
Alan Cumming. The Band: Henry Koperski (Piano), Stuart Semple (Drums), Su-a Lee (Cello), Cameron Jay (Trumpet)
After premiering this show in Adelaide this summer and then a whirlwind tour including Brisbane, Melbourne and Sydney, the King of Cabaret is back at the Edinburgh Festival.
In 2007, Alan Cumming starred in the EIF classic drama,  'The Bacchae'  The opening scene was visually breathtaking as Dionysus descends from the godly heavens, head first, naked posterior, wearing a gold lame kilt and waistcoat.
Accompanied by his band of four musicians, Cumming runs on stage with energetic glee, this time dressed in more sober attire, grey trousers and a waistcoat, modestly buttoned up to the neck. Surely he has not packed away his glitzy, glamorous theatrical costumes?
Now aged 56, he continues to embrace a dazzling international career on stage and screen. From the double act, Victor and Barry & the BBC smash hit sitcom The High Life, to Shakespearian success and a Tony award for his mischievous, mercurial MC in Cabaret on Broadway. Movie and TV roles include Goldeneye, X2, The Good Wife and Instinct.
The opening number, 'But Alive', written for Lauren Bacall in the musical Applause, 'I feel groggy and weary and tragic, Punchy and bleary and fresh out of magic, But alive, but alive, but alive!' segues neatly into 'Sing me a happy song' from 'Flora the Red Menace' by Kander & Ebb.
These kick of the theme of the show - growing old, gracefully or otherwise, in a fast-paced cabaret of music and chat – a flurry of witty anecdotes and philosophical musings interspersed with life-affirming, showtime songs and romantic ballads.  He is a natural storyteller, relating weird and wonderful experiences with a wicked glint in his eye and broad dimpled grin.  He explains his passion for 12 – 14 hour long-haul flights, "where no one can get to you" revelling in the nonstop round of drinks, lunch, movie, sleep, drinks, dinner, movie.  Having booked a business class flight recently on Qatar, a friend revealed that they don't serve alcohol. Serious panic mode, until he found out he would be offered bar drinks, but not during Ramadan. "When is Ramadan?!'
In NYC, he has launched his own nightclub bar, Club Cumming, often welcoming a crazy mix of celebrities such as the unlikely trio of Emma Stone, Billie Jean King and Paul McCartney, whom he tried to persuade to accompany him in a duet.
Alan realises all too well that life is short, giving a poignant rendition of 'Is That All There Is?', recorded by Peggy Lee,1969.
If that's all there is my friends, then let's keep dancing
Let's break out the booze and have a ball
If that's all there Is ..
He dislikes the fact that getting older is so negative and is not going to give up dancing and drinking, enjoying party fun with friends who are in their 20s. He has had numerous relationships and been married twice, straight and gay ('but not at the same time!.')
Sad anecdotes too such as the death of his dear friend, Sean Connery, whom he called the King of Scotland, while Alan was referred to as the sweet Prince.  When he does face his own final curtain, he plans to depart following in the spirit of Chekhov who requested a glass of champagne just before his last breath.
The enriching repertoire of songs is simply magical, performed with his cool, charismatic manner while the four piece band create a rousing sound, like a small scale Big Band orchestra. The classic, powerfully emotional number "Maybe This Time" from Cabaret, simply oozes with the eloquent, electrifying magnetism of an iconic Broadway star.
In his sixth decade, Alan Cumming is in his artistic, theatrical prime, flying high with youthful, indefatigable exuberance. The King of Cabaret, par excellence.
Show times:
28 and 29 August, 2021 @ 19:00 and 21:30
Ticket price: £37
Alan Cumming is Not Acting His Age | Edinburgh International Festival (eif.co.uk)