Image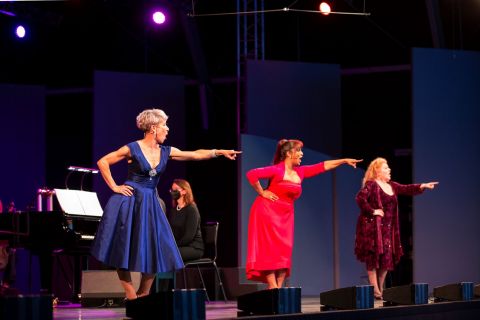 Company
Edinburgh International Festival
Production
Richard Rodgers (Music), Oscar Hammerstein II (Lyrics), Fred Wells (Musical arrangements), Michael Gibson & Jonathan Tunick (Orchestration), Kim Criswell (Staging), Anna-Jane Casey, (Choreography), Walter Bobbie (Original staging)

Performers
Danielle de Niese (Lynne), Kim Criswell (Victoria), Anna-Jane Casey (Alyson), Damian Humbley (Jason) Richard Morrison (Martin). Edinburgh Festival Ensemble, Wayne Marshall (Music Director)
"It's opening night, y'all! A blessed return to the world of music, featuring the songs of the beloved Rodgers and Hammerstein," tweeted the Broadway and West End star, Kim Criswell on Sunday night.
Rodgers and Hammerstein's collaboration was the most successful partnership in American musical theatre history, winning an impressive 42 Tony Awards, 15 Academy Awards, two Pulitzer Prizes, two Grammy Awards and two Emmy Awards.
This Compilation musical was conceived and created by Walter Bobbie and Fred Wells as a Cabaret revue premiering in May 1993 at the Rainbow and Stars nightclub, Rockefeller Center, before being developed into a two hour show on Broadway.
This revival at the Edinburgh International Festival features no less than thirty six songs from the R & H catalogue, ranging from Oklahoma! (1943), Carousel, South Pacific, The King and I to The Sound of Music (1959), as well as less well-known shows, Cinderella, State Fair, Pipe Dream and Flower Drum Song.
After a bright and breezy opening medley from Carousel and Allegro, the title song, 'It's a Grand Night for Singing' from the 1945 movie, 'State Fair', kicks things off in grand and graceful style:
The stars are bright above.
The earth is a-glow
And, to add to the show,
I think I am falling in love.!
The ensemble cast -  Anna-Jane Casey, Kim Criswell, Damian Humbley, Richard Morrison and Daniele de Niese -  are highly acclaimed performers on the international operatic and musical theatre stage.
The romantic ballads and dance numbers have been reinterpreted in a fresh, modern way, taken out of context of the original characters and storyline with new musical arrangements to craft an almost seamless score.  
Instead of the Reverend Mother concerned about a wayward novice, the scenario here is of a lovesick man pondering the question How Do You Solve A Problem Like Maria?  as he suffers unrequited love.  Far from a South Pacific island, a highlight is a sassy, slick performance by Kim, Anna-Jane and Danielle of I'm Gonna Wash that Man right outa my Hair.  
The orchestra of six musicians on stage almost provide the big band treatment with a smooth melodic flow, foot tapping tempo and powerful acoustic sound.
Shall We Dance?  is reimagined as a topical, humorous waltz in which the couple obey the one metre rule donning masks and avoiding a close embrace. The Surrey with a Fringe on Top and Oh, What a Beautiful Mornin', are far removed from a cornfield, Oklahoma but classy renditions with operatic poise.   
Cinderella was their only musical created for television, starring the young Julie Andrews, broadcast on March 31, 1957 drawing 100 million viewers. This must be Walter Bobbie's favourite as there are no less than five songs included – such as the pantomimic sketch of Stepsisters Lament to the delightfully poetic, When you are driving through the Moonlight.
The ensemble is beautifully dressed in black tie, smart suits and sequined cocktail dresses, (with numerous changes of costume) to present real showbiz sparkle and glamour. From soft, slow solos to jaunty jazzy routines, the songs are staged through creative choreography, comedic banter and romantic scenes.
However, the show races along at a breathless, break neck speed, lacking a much needed pause between Act 1 and 11. (This is a rather long show without an interval - especially sitting on hard seats on a wet night exposed to a balmy breeze through the marquee!). 
Curiously, the singers are given character names in the programme but there's no apparent theatrical role playing or any sense of dramatic story or narrative.   
This concert celebrates the masterly musical talent of Rodgers and Hammerstein with vivacity, wit and the polished pizzazz of Broadway, illustrating how these richly romantic songs retain a classic timelessness and universality.
Show times:
Edinburgh Academy Junior School
8th – 13th August at 7.30pm.
Tickets: £35 - £40, from the EIF: A Grand Night for Singing