Image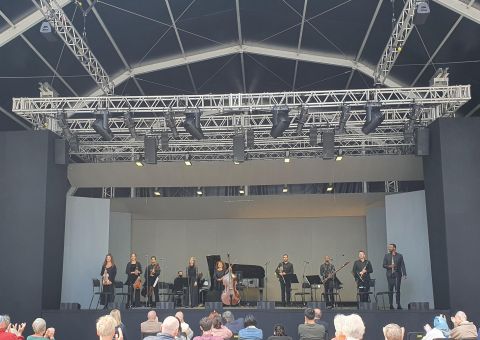 Company
Chineke! Chamber Ensemble
Production
Piano Quintet in C minor (Vaughan Williams); Nonet in F minor (Coleridge-Taylor)
A magnificent lunchtime concert in the sunny setting of the Old College Quad. The purposely constructed covered outdoor pavilion lent itself perfectly to an August recital, from the hugely talented Chineke! Chamber Ensemble. Part of the Chineke! Foundation, and founded by double bass player Chi Chi Nwanoku OBE, its orchestras provide crucial career opportunities to established and up-and-coming Black and ethnically diverse classical musicians in both the UK and Europe.
The concert was one of two equal halves, both works lasting approximately half an hour. The first of these was Vaughan Williams' rarely heard 'Piano Quintet in C minor' for piano, violin, viola, cello and double bass. Its 'Allegro con fuoco' was an arresting beginning to an opening section that was as expressive as it was expansive, the audience being carried along by its gushing romantic waves. The exquisite piano melody of the central 'Adante', also being taken up by the strings, was enchanting, before we heard the beautiful Fantasia finale, with its differentiated and contrasting five variations.
Like Vaughan Williams, Samuel Coleridge Taylor was a pupil of Charles Stanford. But the similarity between the two composers for today's concert was the overarching influence of Brahms – the harmonies evident in Vaughan Williams aforementioned Allegro being a case in point. Here in the Nonet, written for four strings, four winds and piano, we also see pervading evidence of Brahms in the musical style and texture. In itself, what stuck with you above all from the Nonet was the melody for the clarinet in the first movement, which was simply divine.
One of the things that made this performance really stand out was the uninhibited joy and passion with which the musicians played - and this was conveyed. The performance finished at 1.05pm.
Chineke! Chamber Ensemble, Monday 16th August, 12.00pm, Old College Quad