Image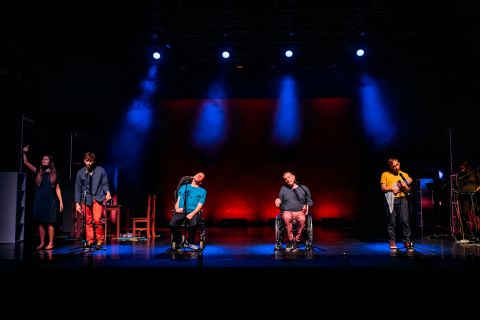 Company
Birds of Paradise Theatre Company
Production
Robert Softley Gale (writer/director), Rachel Drazek (movement director), Scott Twynholm (composer).
Performers
Colin Young, Laurence Clark, Pete Edwards, Phillip Ryan (as themselves), Amy Cheskin (performer/BSL interpreter), Scott Twynholm, Jill O'Sullivan (musicians).
Birds of Paradise produced Purposeless Movements back in 2016 to address a specific medical description of CP:  "Which of our movements are purposeless?" The production dives into what it means to be a man living with Cerebral Palsy. Four professional actors with varying intensity of the condition present their perspective in an open, funny and poignant manner.
Complete with audio description, subtitles and a BSL interpreter, they ensure everyone can enjoy the performance. The show is bursting with jokes and funny anecdotes about eating, speech impediments, first loves and tricky occupational therapists. It is truly a joyful experience. At times however, we reach a deeper level and examine their roles as fathers, lovers and professionals.
They convey these stories, sometimes with words, but mostly within movement sequences. A camera spurs into action, projecting a different perspective of their dance onto the back wall. Live musicians play original musical accompaniment, which is soulful and captures the rawness of the moments well. There is an intensity to these moments; each actor conveys something truly unique. Their movements are beautiful, chaotic and rebellious in their vulnerability.
The cast also convey their frustration at the constant patronising, the misunderstanding of those who mean good, but have no earthly clue. They share the need to make jokes 'to put us at ease', so we don't get 'freaked out' by them. There is very little (if any) space for disabled actors, but this theatre company have ensured their own place among the highest talent.
Honest, gripping and emotively intimate, this is a must see. A very importance piece of theatre which educates as well as entertains.
Dates and Times: 19, 21, 24 August, 8pm. 20,23 August, 3pm. 22 August, 12 noon.
Prices: £20 (concession £10-£15)