Image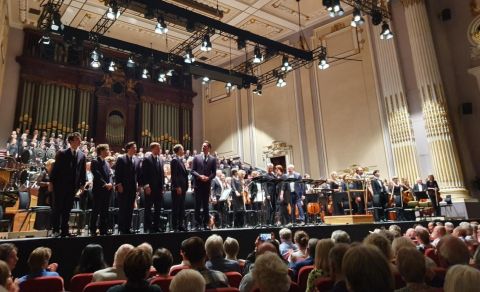 Company
Royal Scottish National Orchestra
Production
Quickening (James MacMillan), Ein Heldenleben (Richard Strauss)
Performers
Royal Scottish National Orchestra – Edward Gardner (RSNO conductor), The Kings Singers, Edinburgh Festival Chorus – Aidan Oliver (Chorus Director), RSNO Junior Chorus – Anne Murphy (Chorus Director)
'Quickening' is a majestic meditation on the beginnings of life – inviting us to wonder in awe, but also to ponder life's frailty and fragility.
Originally composed for the 1999 BBC Proms, MacMillan's 'Quickening' was here reworked; Michael Symmons Roberts who had written the text, had separately produced a series of poems, and these latter were incorporated into the recommissioned piece and sung by the six male voices that are the superb 'Kings Singers'. Together with the Edinburgh Festival Chorus, and the RSNO Junior Chorus in the upper circle, this made for a performance immense in its proportions, with both the orchestral and vocal components matched in their magnitude.
We were led through the miraculous but precarious journey from conception to birth, the text being rich throughout with sophisticated biblical parallelism, providing a still deeper level on which to appreciate the work.
At times, the window 'Quickening' opens up into life-in-its-infancy is disturbing as it is beautiful; risk, contingency, and the potential for tragedy permeate its movements. That this sense of developing drama is so well articulated means that both music and message are immensely charged not only with sanctity but also emotion. The precision of the Kings Singers was spell-binding, and the ethereal voices of the Juniors clearly enchanted the audience.
"Ein Heldenleben" after the Interval is Strauss's autobiographical work, but whether self-congratulatory or self-effacing, it is – either way – necessarily introspective and self-analytical. This broader discussion of course continues beyond the piece as performed, which ranges between soaring and sweeping heroic paragraphs to the biting and chattery phrases with which Strauss is believed to have battled. The work expresses musically the highs and the lows of life lived in all its rawness; the orchestra playfully brought out the alternation between the two voices in the dialogue in a performance masterfully handled by Gardner, who was able to place his own distinctive mark upon it .
Royal Scottish National Orchestra, Saturday 10th August, 7.45pm, Usher Hall