Image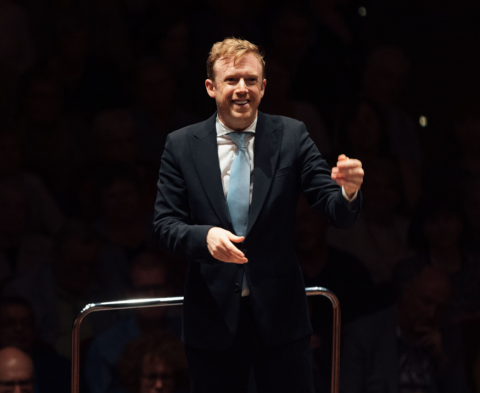 Company
Orchestre de Paris, Edinburgh Festival Chorus, NYCOS National Girls Choir
Production
Britten, War Requiem

Performers
Daniel Harding (conductor), Emma Bell (soprano), Andrew Staples (tenor), Florian Boesch (baritone), Edinburgh Festival Chorus, Aidan Oliver (chorus director), NYCOS National Girls Choir, Christopher Bell (chorus director)

Britten's War Requiem was commissioned for the opening of Coventry Cathedral following the destruction of an earlier building by German bombs in November 1940. Edinburgh architect Basil Spence was a popular choice as architect, whilst there was considerable concern over the choice of Benjamin Britten for the music for its opening. Britten was not only homosexual but as a pacifist had fled to America for the early years of the Second World War.
What Britten produced was a masterpiece of traditional Latin mass settings interspersed with the poetry of Wilfred Owen's poetry of the First World War - which faced up to the horrors of war. Owen had been invalided from the trenches to Edinburgh's Craiglockhart Hospital in June 1917.
In our concert, with Daniel Harding conducting his Orchestre de Paris, the Edinburgh Festival Chorus and the National Youth Choir of Scotland sung the chorus parts in Latin with the soprano soloist, whilst the tenor and baritone soloist sung Owen's poems in English. Daniel Harding had a small orchestra within the Orchestra to his right, the Edinburgh Festival Chorus sat behind and above the Orchestra - whilst the National Youth Choir was out of sight but most certainly within earshot.
Within minutes we had heard 'What passing-bells for these who die as cattle?' and the horrors of war was the continuing theme of each solo.
If it was the soprano soloist Emma Bell who was the audience's favourite, and why not for she was so well placed between Orchestra and Chorus to sing so powerfully, the joint solo of tenor Andrew Stapes and baritone Florian Boesch in the Offertorium seemed to me be real magic. As the Requiem worked through its Requiem aeternam, Dies irae, Offertorium it was when it reached Sanctus that the performance really came to life. Britten had it that only at the final Libera me did all the performers come together. This was momentous, thought provoking and emotional.
Performance: Saturday 24th August 2019 at 7.00pm