Image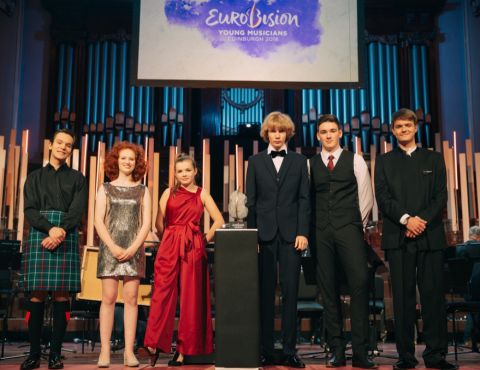 Company
BBC Scottish Symphony Orchestra, European Broadcasting Uni, Edinburgh International Festival, BBC Radio 3, Studios, Scotland
Production
Excerpts from Elgar's Cello Concerto, Tchaikovsky's Violin Concerto, Stivin's Bohemian Suite, Sibelius's Violin Concerto, Ibert's Concerino da camera and Tchaikovsky's Piano Concerto No 1.

Performers
Thomas Dausgaard (conductor), Russia's Ivan Bessonov (piano), Slovenia's Nikola Pajanović (violin), Hungary's Máté Bencze (saxophone), Germany's Mira Marie Foron (violin), Norway's Birgitta Oftestad (cello), and Czech Republic's Indi Stivín (double bass). 

Eighteen semi finalists arrived in Edinburgh at the weekend, all aged 18 or under, to try to reach the finals of the European Young Musicians competition in the Usher Hall. Inaugurated in 1982 in Manchester, this was the first time the competition has been back in the United Kingdom. The event was part of the International Festival programme, although very much under the control of the BBC who were broadcasting live to eighteen European countries. In many ways the audience was part of a television programme and whilst that was interesting there were frustrations. We were very much under the direction of television presenters Jesse D'Arby and Petroc Trelawny.
The six finalists were allowed up to twelve minutes for their performance with the BBC Scottish Symphony Orchestra. Conductor Thomas Dausgaard went out of his way to encourage each player - at the same time as controlling his Orchestra. We heard all six performances before the interval. We were warned to return to our seats just as soon as we were told in order to hear the announcement of the winner. Sitting near the back of the stalls at a long table had been the five judges under the chairmanship of Sir James MacMillan.
The judges came on stage, the orchestra had gone, and Sir James was invited to announce the winner. My view was that the Slovenian violinist might well be the winner - but he was judged to be second. Sixteen year old Russian pianist was declared the winner. Asked for his immediate reaction the most he could manage was 'thank you' - but it was touching from the tall and slim pupil currently at the Central Music School at the Moscow State Tchaikovsky Conservatory. With it goes an award of €7,000 from the European Broadcasting Union, with €3,000 for the Slovenian runner-up.
Performance: Thursday 23rd August 2018 at 7.00pm.