Image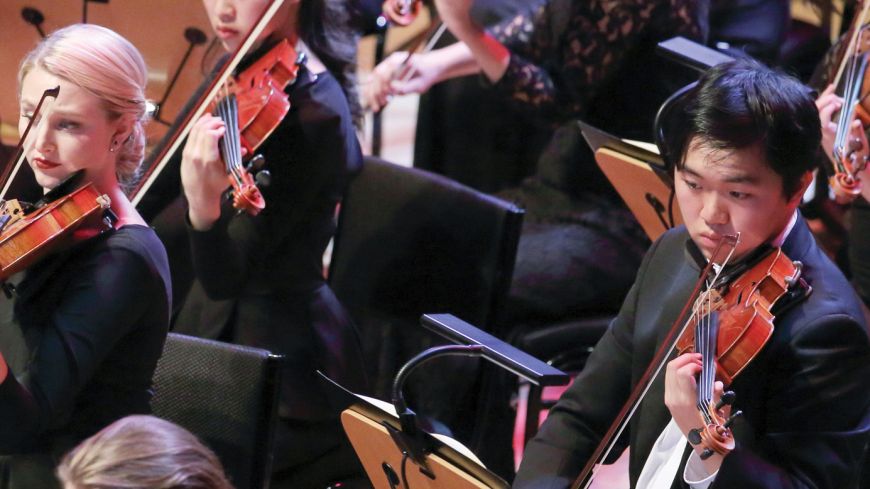 Company
Colburn Orchestra
Production
Esa-Pekka Salonen, Nyx; Barber, Violin Concerto; Rachmaninov, Symphonic Dances

Performers
Stéphane Denève (conductor),  Simone Porter (violin)

Situated in downtown Los Angeles, Colburn School has four divisions: the Conservatory of Music, the Music Academy, Community School of Performing Arts, and Dance Academy. Colburn provides music and drama education to young people in Southern California regardless of wealth or status. On stage at the Usher Hall for their first visit, and indeed their first tour in Europe, was the Conservatory's Orchestra, the crème de la crème.
Conductor for the tour, Stéphane Denève, in introducing the concert was clearly pleased to be back in the Usher Hall. For seven years until 2012 he was the Music Director of the Royal Scottish National Orchestra. He assured us that the three works to be played were American - in that that's where they were composed. All turned out to be lively and testing for the large orchestra he had in front of him.
There was a real sense of other worldliness in Esa-Pekka Salonen's Nyx as it explored, in Greek mythology, the start of the world we know. We heard the mere whispers developing into a roar. The solo clarinet was memorable.
American born and bred Samuel Barber wrote his Violin Concerto at the outset of the Second World War. After a controversial acceptance by its sponsor, the concerto was first performed in 1941 and has become a much loved work. It was so absolutely suitable for soloist Simone Porter in front of her colleagues in the Usher Hall. Born in Seattle in 1996 and a pupil at Colburn since she was nine, Simone was totally confident and totally secure in her performance. There can be no doubt she has a wonderful career ahead of her.
After the interval we heard Rachmaninov's last composition - his orchestral suite Symphonic Dances which, like the earlier Barber, was first performed in 1941. A lively three-part work that included an alto saxophone and just about every sort of percussion. Interesting too was a piano part, as in the Barber earlier.
Emotion had overtaken conductor Stéphane Denève in his praise of the Conservatory musicians in front of him as he wanted us to hear just one more unscheduled work - the Overture from Leonard Bernstein's Candide. And so ended a first class evening by a professional group of players. The person next to me was fascinated by the Orchestra's stage manager as he made jolly certain all was well in and amongst his players at the start of both halves.
Performance: Monday 20th August 2018 at 7.30pm.