Image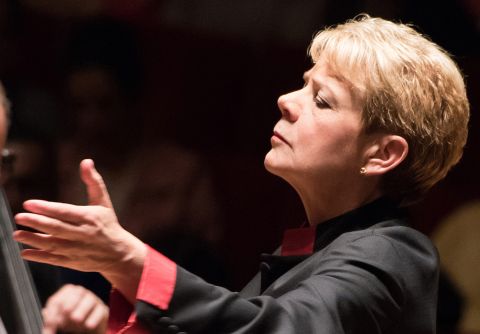 Company
Baltimore Symphony Orchestra
Production
Stravinsky, The Firebird Suite (1919); Gershwin, Concerto in F; Schumann, Symphony No 2.

Performers
Marin Alsop (conductor), Jean-Yves Thibaudet (piano)
Every seat was filled for the first of two concerts at the Usher Hall which started the Baltimore Symphony Orchestra's first overseas tour for thirteen years. Based in Maryland's Baltimore, they also have a base in Washington DC. After Edinburgh they go on to the BBC Proms and then to Dublin. Marin Alsop, a familiar and welcome face on the Usher Hall stage from her time as Principal Guest Conductor of the Royal Scottish National Orchestra, has been BSO's Music Director since 2007.
Serge Diaghilev had asked young Igor Stavinsky to write the score for his ballet The Firebird to be performed in Paris in 1910. Its success kick-started Stravinsky's career. Shortly afterwards Stavinsky created an orchestral suite from the ballet music - of which there are three versions depending largely on the size of orchestra. Our concert was most certainly kick-started with the 1919 version. Business-like and exciting; others may have played it more romantically, but that would not have been appropriate for the BSO.
One of the best received recordings of Gershwin's Piano Concerto is the jazz band version with French pianist Jean-Yves Thibaudet with Marin Alsop conducting the Baltimore Symphony Orchestra. And so it was a thrill to see both pianist and conductor come on stage for the classical version of the Concerto with the BSO. The interaction between pianist and conductor throughout was fascinating. The audience clearly hoped for encore from Thibaudet, but wisely he left us to soak up his memorable performance.
In this Leonard Bernstein centenary year and with a BSO Bernstein concert to come, it was interesting to learn that whilst studying at the Tanglewood Music Centre, Marin Alsop was a pupil of Bernstein where he had taken her through Robert Schumann's Second Symphony. Not surprisingly, we heard a very fine performance from a first class orchestra.
Performance: Friday 24th August 2018 at 7.30pm.